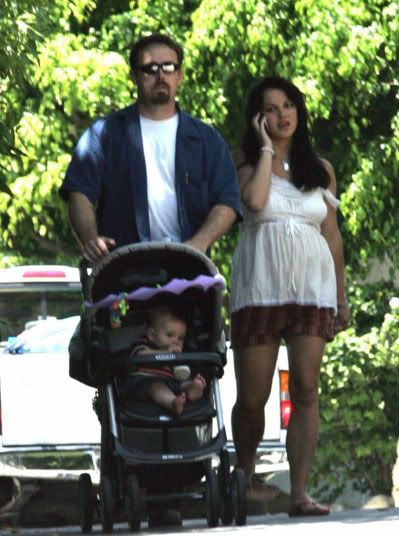 Britney Spears was spotted with yet another bodyguard taking over manny duty. This unknown guard bears a striking resemblance to a bloated Ben Affleck and was pushing the Graco stroller while Britney chatted on the phone. She looked relatively cleaned up and presentable for an average day out.
Meanwhile Kevin Federline was seen toting a trendy piece of exercise equipment, the BOLA trainer, which some suggest is a rude ass hint to Britney. They have those things at my gym and I think you're supposed to balance on them and train your abs, but I have no idea since I generally avoid exercise equipment that makes me look foolish. (I have a theory that trainers capitalize on this and make people do dumb shit they would be too embarassed or confused to do on their own.)
Kevin will be "rapping" at the Teen choice awards on August 20th. It will be surprising if he performs "Papazoa," since he said recently that the entire song was a joke meant to set peoples' expectations for his talent low.
Britney has posted a new "stream of consciousness" poem-thing on her website in praise of tigers – yes tigers. She expounds on the wild beasts in a segment that's reminiscent of an elementary school essay:
In some ways, people are a lot like animals. We all hunger for the same things. Love, lust, danger, warmth and adventure. Like people, animals all have their own rythm to life. I'm mesmirized [sic] by tigers. Their eyes, their stripes, their constant quest of [sic] survival. They almost have a sense of mysteriousness about them. They pull you in and make it difficult to look away. They make you wonder what is behind their gaze. A sense of eerie awe comes over you in their presence. The fear they give you when you pass them is stunning. Behold the beauty of the tiger.
I'm mesmirized by Britney's excellent prose. I would wonder why one of her handlers didn't edit this or advise her against posting it, but she went on national television in short shorts with hair looking like a rat's nest, so this little poem is a minor indiscretion.
Here is Britney and Ben Affleck, I mean her bodyguard/manny that's not Perry:
Pictures from x17online and Oh No They Didn't.