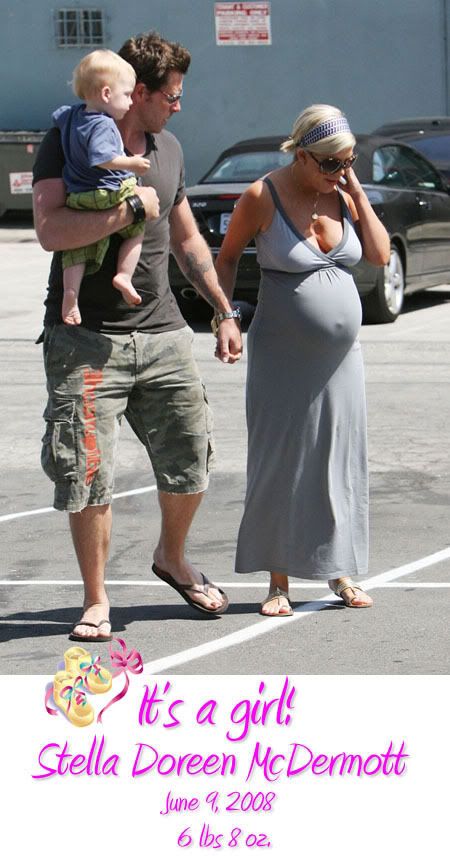 Tori spelling has popped out baby number 2 – a little girl named Stella Doreen McDermott. She was born Monday, June 9th at 3:13 p.m. PT by scheduled c-section and weighed 6 lbs 8 oz. Which is 3.09 kilos. I really like the name Stella, it's very classic.
Tori's rep tells OK!, "She's here! She's a healthy baby girl. Tori and baby are resting comfortably."

Stella, whose middle name Doreen is after Dean's late mother, is the second child for Tori and her husband, Dean McDermott. The pair, whose Oxygen reality show Tori & Dean: Home Sweet Hollywood launches its third season on June 17, are already parents to Liam, 1.

Although having two children under the age of 2 will be a challenge, Tori and Dean do believe parenthood will be easier the second time around.

"You're a little more laid-back with your second child," he told OK! last month. "You're not as anxious. You're not as frightened. They trip and fall, and you're a little more laid-back about it and realize they don't break."
Actually, you aren't more laid back, you're just so sleep deprived and confused you no longer have the ability to feel anxiety or fright. At least in my experience.
Congratulations to Tori, Dean and big brother Liam. We look forward to seeing your new arrival in magazines and on reality television soon.
Note by Celebitchy: Tori Spelling is shown in the header out Sunday on Sunset Boulevard. She must have known it was her last day to be photographed before the new baby as her c-section was already scheduled for Monday at that point. She's also shown at a hair salon on Saturday, and out on 6/1 for comparison. She seems to have had her roots dyed in preparation for the baby. Supposedly most doctors say it's ok to dye your hair while pregnant, but you should probably wait until after the first trimester.