A few weeks ago, Joan Collins gave an interview to The Daily Mail in which she was bemoaning the state of glamour and beauty in the current crop of Hollywood. Joan seemed to take a decided position in the Uncool Bermuda Triangle War, siding on Team Jolie. Joan said: "When I was young, everybody on screen was gorgeous. I have to say, there aren't that many good looking actresses around today. I mean, there's Angelina Jolie and there's… Angelina Jolie. Jennifer Aniston is cute, but I wouldn't call her beautiful. She's no Ava [Gardner] or Lana [Turner]." She also had some nice things to say about Cheryl Cole, if that matters. In response, Jennifer Aniston's people issued a blanket statement saying that they were "aware" of Joan's comments, but that "There is no need to engage with that nonsense." Because nothing says "not engaging" like issuing a statement saying you are "not engaging." You know? And when HuffPo reported that "not engaging" story, it literally got more than a 1,700 comments. Ridiculous.
Anyway, Joan was Saturday's Carousel of Hope event, and Us Weekly caught up with her and asked about her comments. Joan's reply is pretty great – she doesn't pretend to take it back or anything, she just says that she bitched about some other actresses too, but The Mail just made it about The Uncool Bermuda Triangle:
Former Dynasty star Joan Collins is explaining why she dissed Jennifer Aniston. In Britain's Daily Mail, she recently sniped that Angelina Jolie is more "beautiful" than Aniston, 41. Aniston's rep said the Switch star was "aware" of Collins' comments but felt there was "no need to engage with that nonsense."

Collins, 77, tells UsMagazine.com she didn't mean to offend the actress.

"The bottom line is that I talked about several actresses, among them Catherine Zeta-Jones, Scarlett Johansson and Megan Fox," she told Us Saturday at the Carousel Of Hope Gala in Beverly Hills. "Unfortunately, everybody got cut out [except Aniston and Jolie]. Typical. That's the way it goes."
[From Us Weekly]
I would love to hear Joan's opinions on Megan Fox! That would be a hoot. I would imagine she adores Catherine Zeta, because Zeta is quite glamorous most of the time. Anyway, whatever. Joan isn't going to apologize. Should she have to?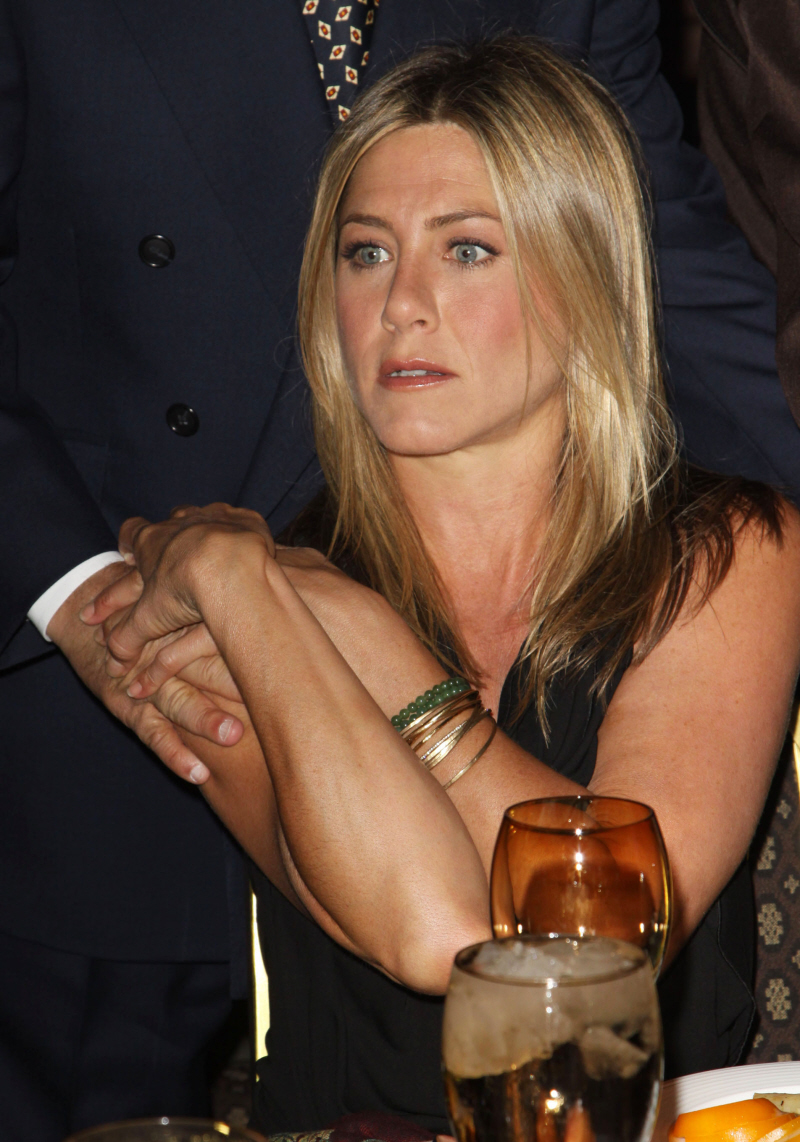 Photos of Joan at the Carousel of Hope event on Saturday. Also, photo of Aniston, all courtesy of WENN.