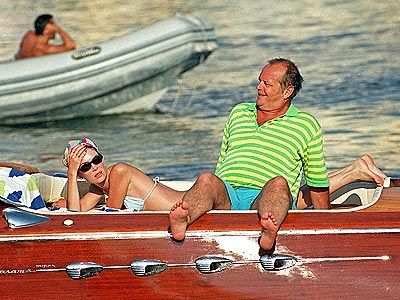 Jack Nicholson and a normal-looking Lara Flynn Boyle were photographed on holiday together in Saint Tropez.
Legendary actor Jack Nicholson and Lara Flynn Boyle have been photographed enjoying a holiday together in Saint Tropez, fueling rumors the former couple have rekindled their romance. Nicholson, 69 and Boyle, 36, were spotted lounging in the sun together on a speed boat in the French Riviera on Tuesday.
The pair dated from 1999 to 2001. They went public with their relationship after they were involved in a car crash. Boyle was dating comedian David Spade at the time of the accident and was a passenger in Nicholson's Mercedes when it collided with another car in the Hollywood Hills in July 1999.
Now I had conveniently forgotten that Lara Flyn Boyle also dated David Spade, but Jack Nicholson was definitely a move up for her at the time.
Now that Pamela Anderson and Kid Rock also reunited in Saint Tropez – and are getting married – exes around the world are going to flock to the French Riveria to get back that certain spark that cheating and fighting put out the last time around.