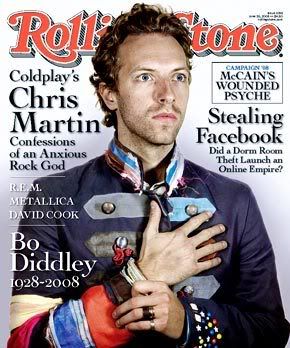 Some people have a weird way of measuring their success. While most of us would use money or happiness, Chris Martin uses karaoke.
He apparently said: "I'm really determined that there should be more Coldplay songs in karaoke bars. I've been into them and you open the lyrics book and there are a million Beatles songs. There's dozens of ABBA, Culture Club and even Bucks Fizz, but Coldplay? There will be two or at most three."

But Martin has a solution: "If we could just get eight in every bar worldwide I'd be happy. I would know we've made it. I think there are three karaoke possibilities on 'Viva La Vida'. It surely has to be the ultimate measure of success."
Chris, if it makes you feel better I once had a car named after you. It was yellow. It was also a pile of crap. It was also back in the day when people didn't know who you were, and your lovely wife Gwyneth Paltrow was going to marry Brad Pitt.
I had completely forgotten that she was once engaged to the man-half of Brangelina, and for the first time Chris has spoken about what it is like to be married to a woman who used to date Brad Pitt:
Despite it all, Martin can't stop feeling like an underdog. "You've got to be hungry," he says. "If your wife went out with Brad Pitt, you'd want to prove yourself, you know what I mean?"
I think if you really thought about the fact that your wife once bedded the sexiest man alive (back when he was in his prime), it could really bother you. You might wonder how you shape up next to that shirtless wonder.
Then you'd have to get one of the world's biggest ego boosts – my wife could have married the sexiest man alive, but she chose me.