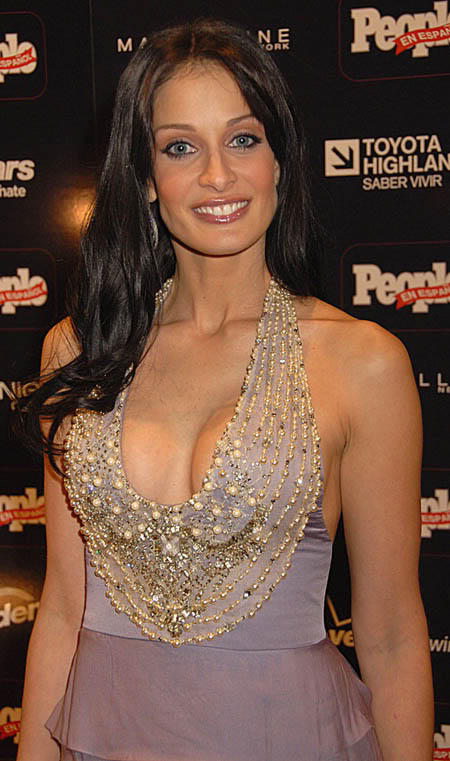 In 2004, Marc Anthony secured a quickie divorce in the Dominican Republic from his wife of over three years and mother of two of his children, former miss Universe Dayanara Torres, 33. He was married to Jennifer Lopez within a few months. When Anthony left Torres amid rumors that he was cheating with his former girlfriend Jennifer Lopez, with whom he was collaborating, Torres says she was devastated and couldn't get out of bed for days. Torres refuses to talk poorly about Anthony or to denounce his behavior in the press. She has a new book out, Married to Me: How Committing to Myself Led to Triumph After Divorce
, in which she chronicles her recovery from the pain of an unexpected split and divorce. In an interview in this week's People Magazine she discusses the very difficult time she went through when Anthony left her, but doesn't address the story that he was cheating on her with Lopez or bad mouth him in any way:
[Dayanara Torres' story] is a fair tale with a happy, if hard-earned, ending. Now living in L.A. with the sons she had with Anthony, Cristian, 7, and Ryan, 4, Torres has rarely spoken publicly about the split. "You get mad," she says. "But I took the high road." As she reveals in Married to Me, the new self-help book she cowrote with her sister Jeannette to inspire divorcées, the journy hasn't been easy. "You want to move on as quick as possible… But you realize time is your friend. You have to get through to the other side.

She went through more than her share. After Anthony left, she found herself barely able to get out of bed. "You go through hell," she says, her blue eyes soft. "I cried until there were no tears left – until I was numb. I didn't want to eat; I didn't care to get dressed or take a shower. I just wanted to like there." But after a few months, she got a wake up call from another man in her life. "One day Cristian walked in and said 'You're crying again?' I felt embarassed that they saw their mother being weak. I woke up. I realized I'd been crying for all the wrong reasons."

She pulled herself together and tried to make things right. "I didn't want them to choose sides," says Torres, who keeps photos of Anthony throughout her home for the boy's sake. "He's not someone we need to hide – he'll always be their father. And to this day, I don't think they've seen our divorce as a bad thing."
[From People Magazine, print edition, June 23, 2008]
People has details of Torres' book
, and say that she advises women fresh out of a divorce to "Let yourself feel the pain, Let go of regret," and not to rush into another relationship until they're ready. As for her husband's new marriage, Torres talks about how happy her sons were to learn about their half-brother and sister, twins Max and Emme, nearly four months. She says "They love them! It's cute to see."
Torres is moving on with her life and says she's "happy, and I don't pin my happiness on anybody else." She used to date Amaury Nolasco, Fernando from Prison Break, but they are "taking a break" now and she says he's "a great guy." She calls her life a new adventure and says she's got healthy kids and great friends.
She deserves a lot of credit for not talking smack about Anthony or Lopez after they so obviously hooked up while he was still married with kids. She's getting her digs in subtly by just focusing on how she suffered but not discussing her husband's infidelity. And she continues to look like the more responsible, and wronged, party. Hopefully her new book will be a success.
Dayanara Torres is shown at "People en Espanol Celebrates its 12th Annual '50 Most Beautiful' Issue" in NY on 5/14/08, thanks to WENN.