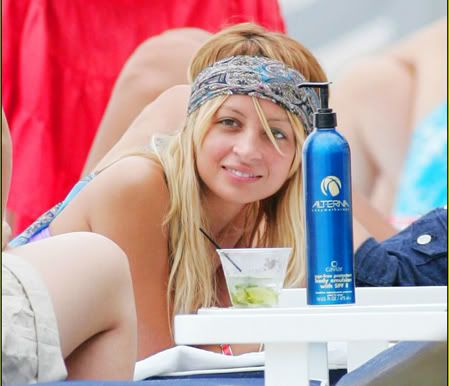 Nicole Richie was shopping at Kitson in LA, where she picked up a bunch of overpriced bangles. They were probably too heavy for her frail arms because she fainted dead away:
"She was looking through a rack of clothes when she suddenly fainted and hit the floor," an "eyewitness" told the mag. "The staff helped her to a chair and offered her something to eat. She shot back, 'No!' and mumbled something about it being 'so hot.'" Although Richie turned away food, she did accept a glass of water, reports the mag, and after about 20 minutes "was steady enough to leave."
So the bangles may have been purchased on another shopping trip when she wasn't so unwell. What's important is that she declined food because there weren't any paparazzi in the store to photograph her eating it.
I fainted a couple of different times after giving blood, so I just don't do it anymore. It's pretty suspect that Nicole is fainting, but she's actually gained a smidgeon of weight. It could be due to low blood sugar or the heat, she's right. Fainting is defined as:
Temporary loss of consciousness caused by disruption of blood flow to the brain, brought on by emotional upset, pain, or hunger. Some people are particularly prone to fainting, but usually recover rapidly and completely.
Richie could certainly be hungry or upset . I remember when Angelina Jolie fainted at the airport a while ago. It turned out she was pregnant. I'm just saying. It's more likely that Nicole is hungry, but she has been spending a lot of time with her ex, DJ AM, lately. They even dress alike, although he looks like he's running away from her in these pictures.
Here are recent pictures of Richie with AM, buying a cat, and at the beach. [via and via]