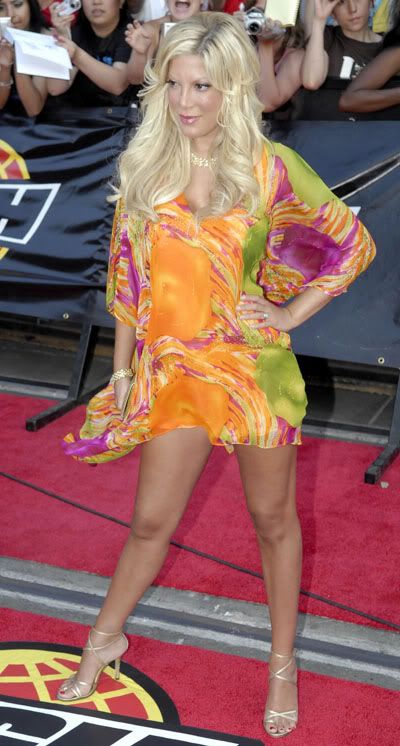 Tori Spelling's not pregnant, so there's no excuse for that weird satin number she was wearing a few weeks ago. She's also due to inherit a large portion of her father's $500 million estate, so she really doesn't give a shit if her cheating pageant-winner mom likes her or not:
Tori Spelling will be seeing green after all. After her father, Aaron, passed away on June 18, there was speculation that Candy Spelling would block her daughter from any inheritance (the two are estranged over Candy's long-running relationship with Mark Nathanson, which Tori calls "inappropriate").
But a source tells Us that Tori, 33, will get "a significant portion" of Aaron Spelling's estimated $500 million estate. Adds the pal, "If Candy had her way, Tori wouldn't have gotten a thing."
Obviously Tori knew that she didn't have to get into her mother's good graces to cash in on her inheritance or she wouldn't have talked so openly about getting snubbed by her family.
Let me just apologize for the lack of posting lately. It's hot as hell here in eco-friendly Switzerland without air conditioning, and my son's babysitter is on vacation. To encourage me to continue digging celebrity gossip, please visit the sponsors. Thank you!
Here is Tori at the Much Music awards in Canada last month. [via]