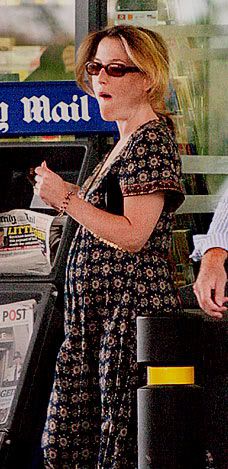 Former X-Files star Gillian Anderson, 37, left her second husband, documentary filmmaker Julian Ozanne, 42, after just 16 months. They announced their split at the end of April.
Anderson is pregnant now with her second child and is dating a new guy, but she's visibly pregnant, and looks like she's about five months along. That means that either she got pregnant by her estranged husband and will be raising his baby with another guy (which is similar to what Heidi Klum did with Seal) or that she was pregnant by her boyfriend and that could be the reason she split up with her husband:
X-Files star star Gillian Anderson is pregnant just three months after splitting from her husband.
The actress, 37, has told friends she is expecting a baby following her separation from documentary-maker Julian Ozanne, her second husband…
Miss Anderson is now reported to be dating wheelclamping firm director Mark Griffiths. The 34-year-old businessman, who operates his lucrative private clamping company from an industrial estate in North London, was previously linked with former Spice Girl Geri Halliwell.
Last month Mr Griffiths, who used to live close to Miss Anderson's marital home in Notting Hill, West London, moved into her new £3million home in nearby Holland Park.
The couple are also said to have enjoyed a holiday to California with Piper, Miss Anderson's daughter by her first husband, Canadian television art director Clyde Klotz. The actress's marriage to Mr Ozanne broke down shortly after The Mail on Sunday revealed she had a bizarre alcohol-fuelled outburst on a flight in January this year…
When The Mail on Sunday asked Mr Ozanne if his former wife was pregnant he declined to comment.
We speculated back in April that Anderson's relationship with her second husband was probably on the rocks because she seemed to be drinking too much. She suffered from drunken air rage (although one can hardly blame her, with the stress of flying and all) and looked visibly drunk in these candids of her out with her then-husband.
Hopefully she's laying off the sauce now that's she's pregnant and maybe she'll find happiness with her latest beau. It's not too promising that he runs a "wheel-clamping" business, though. Who doesn't hate those guys?
Here are pictures of Anderson from March out with her husband. She is seen at the Belle Epoque Dinner on 3/16 and in some candids looking visibly soused. Helena Bonham Carter and Tim Burton are also shown. The first set of pictures you may have seen before, but the second set are new to me. [via]
Thanks to HotMommaDrama for reporting this first.