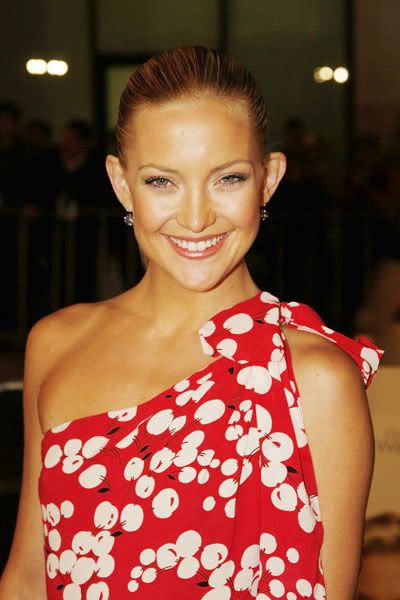 "You, Me, and Dupree" is not doing so bad at the box office, and is in fourth place on its second weekend out. "Pirates" is still kicking ass at first place, of course. "You Me, and Dupree" is supposed to royally suck, though, and is getting panned by critics.
Kate Hudson won a recent libel award from the British arm of The National Enquirer. Celebrities sue the British and Irish offshoots of US gossip magazines to get around US libel laws, which shield publications from damages unless it can be proven that they acted from malice. (So basically the US gossip rags can make shit up and no one can sue them.) Britney Spears is now suing 8 gossip magazines from offshore in the hopes of scoring some cash to feed her estranged husband's fast lifestyle.
Hudson was refuting a report that she was dangerously thin and that her mother, Goldie Hawn, was worried for her health. She won an undisclosed settlement from the magazine.
Here is Hudson looking like an elf at the July 23rd Australian premiere of "You, Me, and Dupree" with annoying Owen Wilson. She shouldn't wear her hair back because it certainly isn't flattering to her face. [via]