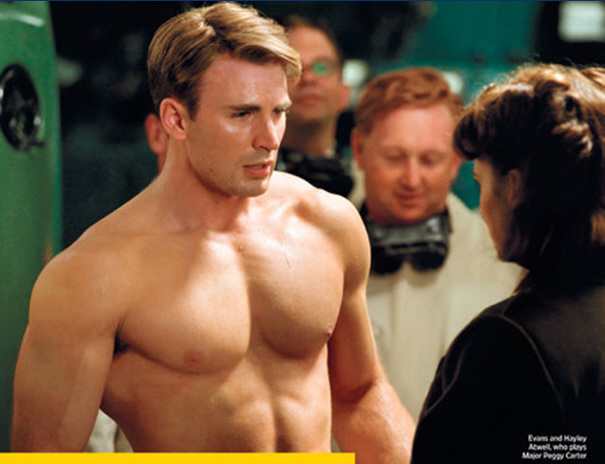 I think I've already described my love of Chris Evans, and how in the Death Battle of Chris Pine vs. Chris Evans, I'm always going to be Team Evans. Not that Pine and Evans are even aware of this grudge match – I always associate the two of them because I got them confused constantly before I really saw either of them in anything. Anyway, I love Evans, and now I love him even more, thanks to these photos. Evans was cast as Captain America a few months ago, and Entertainment Weekly (via Pajiba) has the "first look" photos. Um… Evans has a really nice body, right? JESUS. Pajiba has the new "plot" for the film, although I think I would probably watch Evans wander around like this for two hours:
The year is 1942, and Steve Rogers is a scrawny lad who desperately wants to fight Nazis for his country but can't because he's been deemed physically unfit. His fate — and his physique — is radically transformed when he signs up for Project: Rebirth, a secret military operation that turns wimps into studs using drugs and assorted sci-fi hoo-ha. There's a love interest (Major Peggy Carter, played Haley Atwell), there's a sidekick (Bucky Barnes, played by Sebastian Stans), and there's the Red Skull (Hugo Weaving), Hitler's treacherous head of advanced weaponry, whose own plan for world domination involves a magical object known as The Tesseract (comic fans know it better as The Cosmic Cube).

Evans on being cast as Captain America: "At the time, I remember telling a buddy of mine, 'If the movie bombs, I'm f—-ed. If the movie hits, I'm f—-ed!'" After declining the part three times, Evans took a meeting with Marvel execs and Johnston and was dazzled by their plans for the movie. He still felt wary about suiting up for Captain America — but then he had an epiphany. "I was just scared," he says. "I realized my whole decision making process was fear based, and you never want to make a decision out of fear.'" Evans signed a six-picture deal with Marvel to play the character, and he has no regrets: "I can't believe was almost too chicken to play Captain America."
[From Entertainment Weekly, via Pajiba]
So… he's a Super Soldier. Isn't the United States' military's R&D working on super soldier projects right now? So… Captain America is "ripped from the headlines". I kind of wish it wasn't a period film, though. It would be interesting to see a modern Captain America. It's also interesting that Evans turned it down so many times – I thought this was a part lots of young actors wanted? Eh.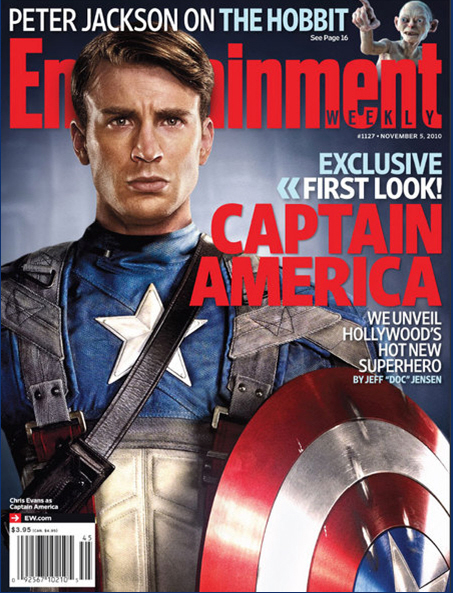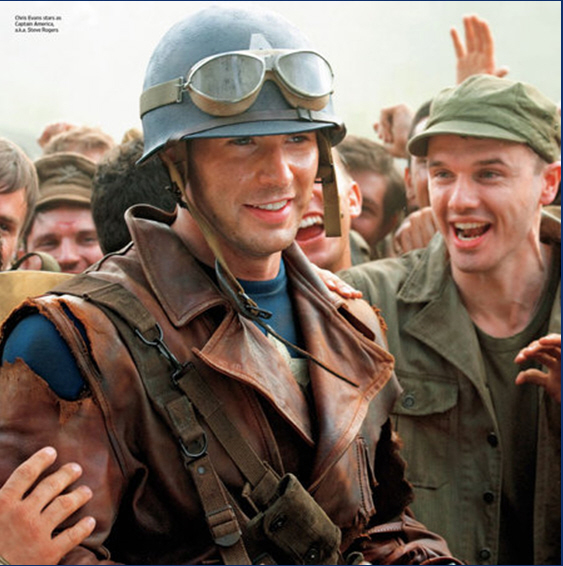 EW photos courtesy of Pajiba.