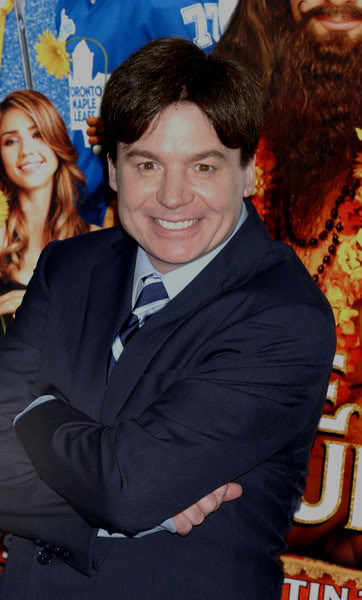 Thanks for linking this story u/SnowHesher. Please visit our main site for more.
When you see comic Mike Myers hamming it up on screen as Wayne Campbell or Austin Powers, he seems like a fun, goofy guy, doesn't he? Like, someone really down to earth whom you could hang with? Well, if you believe Entertainment Weekly's latest story, he couldn't be anything further. EW interviewed some of Myers' former co-workers who paint a much darker picture of the actor, saying he is difficult, moody and demanding.
Still, the fact is, within Hollywood, not everyone is cheering for Myers to succeed. Since early in his career the actor has been tagged with a reputation for being difficult to work with: moody, controlling, and arrogant. That description could, of course, fit many actors and filmmakers, but the degree of enmity directed toward Myers by some who've worked with him — even years after the fact — is rare. Says one executive who has had a rocky relationship with Myers: "I honestly root against him."

Penelope Spheeris, who directed Myers in his first film, the 1992 smash Wayne's World, says she has shared war stories with others who've worked with the actor. "Maybe he could open, like, a children's hospital to clean up his rep," she jokes darkly. "He's got to do something pretty quick."
The article goes on to say that during the making of the two hit "Wayne's World" films, Mike was threatened by co-star and friend Dana Carvey. At the time, Dana's career was bigger than Myers' thanks to his ubiquitous "Church Lady" character, and the two clashed on set due to Mike's insecurities. As for director Spheeris, who only directed the first film of that series, she tells a story of a demanding diva who pitched a fit when he didn't get the snacks he wanted.
According to several accounts, including a Vanity Fair article in 2000, Myers felt threatened by his more famous SNL costar, Dana Carvey, who played Wayne's nerdy sidekick, Garth. "Mike didn't want Dana in the movie because he felt insecure that someone who had his own creative ideas would get in the way," says one source involved in the production. Carvey, via his publicist, calls this notion "ridiculous." Michaels, who produced the film, says it's "overstated," but adds, "That isn't to say they're not both comedians and that occasionally there's not some disagreement over who should be speaking what."

Spheeris found herself struggling to prop up Myers' often dark moods. One day, infuriated that there was no margarine for his bagel, only butter, Myers — who, according to several sources, said he suffered from hypoglycemia — stormed off the set. (Myers' rep denies he is hypoglycemic.) "He was emotionally needy and got more difficult as the shoot went along," Spheeris says. "You should have heard him bitching when I was trying to do that 'Bohemian Rhapsody' scene: 'I can't move my neck like that! Why do we have to do this so many times? No one is going to laugh at that!"' To manage Myers' moods, Spheeris put her daughter in charge of making sure he had whatever snack he needed at any given moment: "To this day, I have this image of her sitting on this little cooler, looking at me, like, 'Mom, I f—ing hate you."'

If Wayne's World was a difficult experience, Myers' next film, 1993's So I Married an Axe Murderer, was a torturous one. From the outset, Myers clashed with director Thomas Schlamme, at times holing up in his trailer and refusing to work. "I think Mike's a visionary, but his way of getting what he wants is to emote and threaten and express anger," says the film's producer, Rob Fried. "It's not healthy for personal relations."
This is a bombshell- if not to Hollywood insiders, than definitely for the movie-going public. I wasn't surprised to find out that guys like Mel Gibson and Isaiah Washington were arrogant asswipes, but Linda Richman from Coffee Talk? Say it ain't so!
Anyway, Myers' new comedy, The Love Guru, opens this weekend. Let's see if those rooting for the movie to flop get their wish.
Mike Myers is shown at the premiere of The Love Guru on 6/11/08, thanks to PRPhotos.