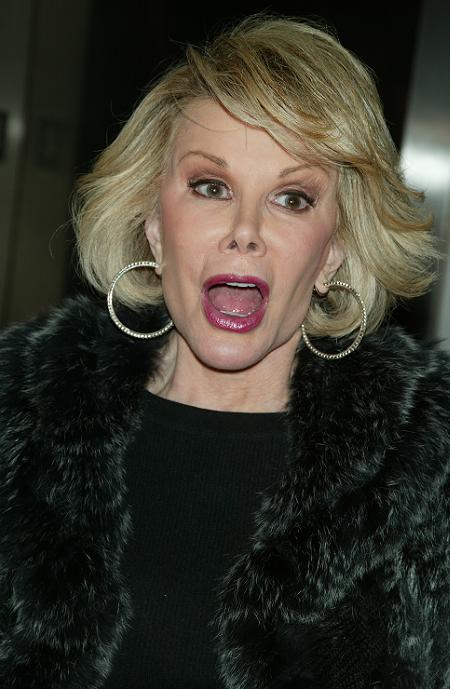 You know what's a great way to make yourself relevant when everyone's forgotten you're alive? Start swearing like a sailor… on national television… when talking about a celebrity. At least that's the strategy from the Joan Rivers School of Fame. And let's be honest, that's a pretty small school.
Rivers has been in London promoting her new play Joan Rivers: A Work In Progress By A Life In Progress. She was on the show Loose Women (I haven't seen it, but it appears to be similar to The View), when she let loose with quite the expletives – calling actor Russell Crowe a "f*$%ing shit." Unfortunately the show is live and couldn't be bleeped.
Joan Rivers' salty tongue got her booted from a British daytime talk show in the middle of its live broadcast.

Rivers used two expletives while talking about Russell Crowe as a guest host on the live gab-fest "Loose Women." She was asked to leave during a commercial break.

The 75-year old comedian said in a statement Tuesday she was sorry for the swearing, and assumed that a censor would be able to "bleep" the words out.

Then she cracked wise, saying the incident reminded her of her wedding night – because she was asked to leave in the middle of that, too.
[From the Huffington Post]
The show's hosts apologized profusely. Though they said Joan would be back after the commercial break, when the show resumed they noted, "We apologize for the offensive language in the previous part. Unfortunately Joan's had to leave us." They're so polite.
Rivers seems to view the incident as a high point in her career.
'I said: 'I apologise'. Everyone apologised. It was hilariously funny.'

But she said that during a commercial break: 'They whipped me off. It's the first time in 40 years.

'I'm thrilled – everyone keeps saying to me: 'What more is there in your career? You've got every award there is."
[From the Daily Mail]
Well now she can be known as the lady with the craziest face and the craziest mouth. High point indeed.
Here's Joan Rivers at a book party for Bernadette Peters held at Le Cirque in New York City on May 12th. Images thanks to WENN.