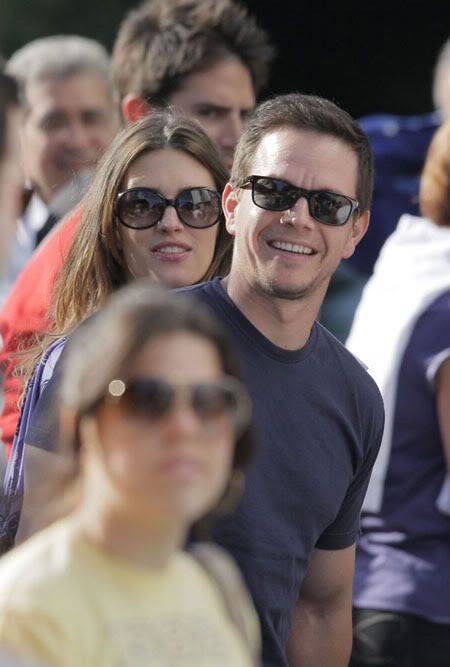 Last week Mark Wahlberg was quoted as saying he was mighty annoyed by his neighbors, the Beckhams, and all the paparazzi they have trolling the neighborhood. He supposedly said that he wishes they would move back to the UK, but that Britain doesn't want them, either. I wondered if that was an accurate quote because it seemed mighty harsh and not like something you would tell the press if you were famous.
Wahlberg gave another blunt statement to the press, which makes it seem as if he did blast the Beckhams. This time he said he's glad that he didn't chose to take a part in the Oceans films, because they sucked and he would have hated having to act all buddy buddy with those guys while doing press for it. He then went on to admit that he was in some stinkers, too:
Is it true you turned down the chance to be in the Ocean's films?

Yeah – and it was well worth it! The second one sucked! People tell George Clooney it's great, but we all know it sucked. I made two bad movies instead – Planet Of The Apes and The Truth About Charlie – but doing that was better than sitting with Brad and George, telling the press how great everybody is! "We were in Europe, George was funny, then we had some wine…" – that's not for me. I do love those guys, but I had to step out on my own.
[From Zootoday.com via Huffington Post]
Mark also spoke candidly about his past, in which he was given two years for assault in a race-related crime he committed at the age of 16 while high on PCP. He served 45 days out of that sentence. When asked what the young thug Mark would do if he ran into himself now, he said "He'd beat the shit out of him! He'd knock him down, take his wallet and tell him to go back to wherever he came from!"
He also said he's "embarrassed" of his stint as rapper Marky Mark in the 90s and said "I thought I was the coolest guy in the world, but really I was just a jackass!"
This guy is growing on me. While there's no excuse for the assault he committed at 16, that was over 20 years ago and he seems willing to own up to it. He's also blunt as hell, and I agree that the second Oceans movie sucked. The third one was slightly better, but the plots of the sequels were so complicated and hard to follow. I watched them for the man candy, music and scenery, and it wasn't a terrible way to waste two hours. Wahlberg didn't even take his shirt off in Planet of the Apes and I sat there waiting to see his abs the entire time.
Mark Wahlberg is shown out with his pregnant girlfriend, Rhea Durham, at the LA Lakers vs Boston Celtics game 5 on 6/15/08, thanks to WENN.