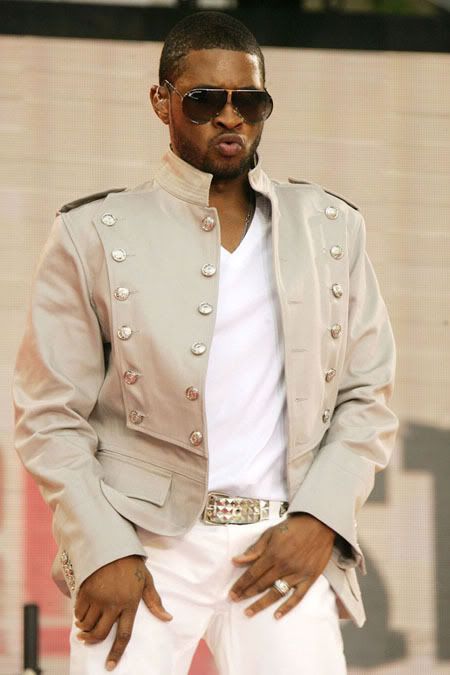 Usher should just quit talking to the press. The 29 year-old singer often makes defensive, shrill statements about his misunderstood personal life that make him seem unbalanced, if not guilty of the very accusations he's rallying against. In an interview with Vibe, he says he regrets some of the things he's done in the public eye, including issuing that stupid "open letter" where he wrote in all caps that "I AM NOT BEING LED" by his new wife, Tameka Foster.
When talking about the criticism of his marriage, he went off on a rant. She seemed to claim that women are lesbians because there aren't enough men to go around, particularly in the black community:
"Am I so much of a bad guy because I decided to get married? Am I so much of a bad guy [because once I got in the situation], I decided to stand for something, build a foundation, and think about my future?" he asked. "As a man, you would respect me for not turning my back on it. … It can never be bad to have a foundation as a man — a black man — in a time when women are dying for men. Women have started to become lovers of each other as a result of not having enough men. Are you not studying the stories? Wake up! Black love is a good thing."
Maybe he meant that there are some women who are primarily straight who decide to turn to their girlfriends or something for lack of men. Surely he's not saying that lesbianism is a result of a scarcity of opposite sex mates. Either way, it's a stupid thing to say and Usher sounds like a fool. Look for an obnoxious and screeching statement from Usher claiming his statement was taken out of context, and that the journalist and the entire Internet is out to get him.
One more thing I got out of this is that he's saying he deserves credit for sticking with Tameka and what he presumes to be his child. He said in an interview published last week that "It's a conscious decision every day to love the person you're with." Usually when you're happily married, especially in the beginning, you talk about how elated you are and how lucky you feel to be with that person, not how you should be applauded for even marrying them and sticking around. Usher did praise Tameka in the Vibe interview, though. He said "The swagger I possess now definitely comes from my wife. And my son completes me. He changes my perspective on what life is, and what matters."
Usher said that Tameka is outspoken and that "If something doesn't look right or she feels like it could look better, she'll say something." Unfortunately she can't censor the idiotic things he says to the press, although maybe she also has 19th century notions of same sex relationships.
Usher is shown performing on Good Morning America on 5/30/08, thanks to WENN.