Emma Watson is the December cover girl for Vogue UK, to promote the first part of Harry Potter and the WhatsIt (whatever). Even though we only have a couple of lower-quality photos from the Vogue shoot (by Mario Testino), there are a few interesting interview excerpts already out. Emma talks about being one of the richest young women in the UK, and how she couldn't cut her hair until she'd been released from her Potter contract:
She may play Harry Potter's bookish sidekick Hermione Granger, but there are some books that caught Emma Watson by surprise – her financial ledgers.

Throughout her early career, Watson, 20, had been given a small weekly allowance of about $75, having no idea of the fortune she was amassing from the hit movie series until she had a "money conversation" with her father, Chris Watson, when she was around 17, the actress – and Brown University student in Rhode Island – tells December's edition of British Vogue.

Watson is now said to be worth $32 million, give or take a few pounds sterling.

"By the third or fourth film, the money was starting to get serious," she told Vogue, according to published reports in the U.K. "I had no idea. I felt sick, very emotional."

She has barely touched her fortune, for which she was named Hollywood's highest paid female in Vanity Fair earlier this year. She chose instead to live in student digs while studying at Brown University in Rhode Island.

It is such stoic self control that led her to ban herself from reading the tabloids.

"There's tons that's not very nice and I'm very, very self critical, so it was like a drug for me," she said.

Watson told how she decided to experiment with her new elfin hairdo after being released from her contract, which banned her from wearing heavy make-up or getting her ears pierced during the Harry Potter shooting schedule.
[From People & The Telegraph]
I'm always impressed with Watson – she really does seem to have a good head on her shoulders, and she seems like an intelligent, classy young woman. It will be interesting to see how much promotional work she does for these last Potter films – that's got to be rough on her university schedule, and I can't imagine every one of her professors accepts "I had to do the Today Show" as an excuse for missing an exam.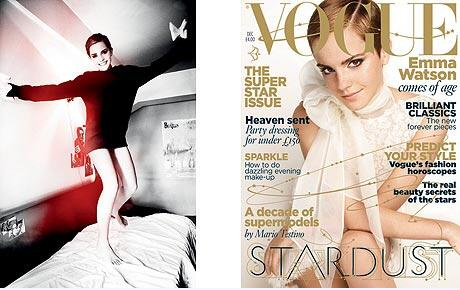 Vogue UK photos courtesy of The Fashion Spot.