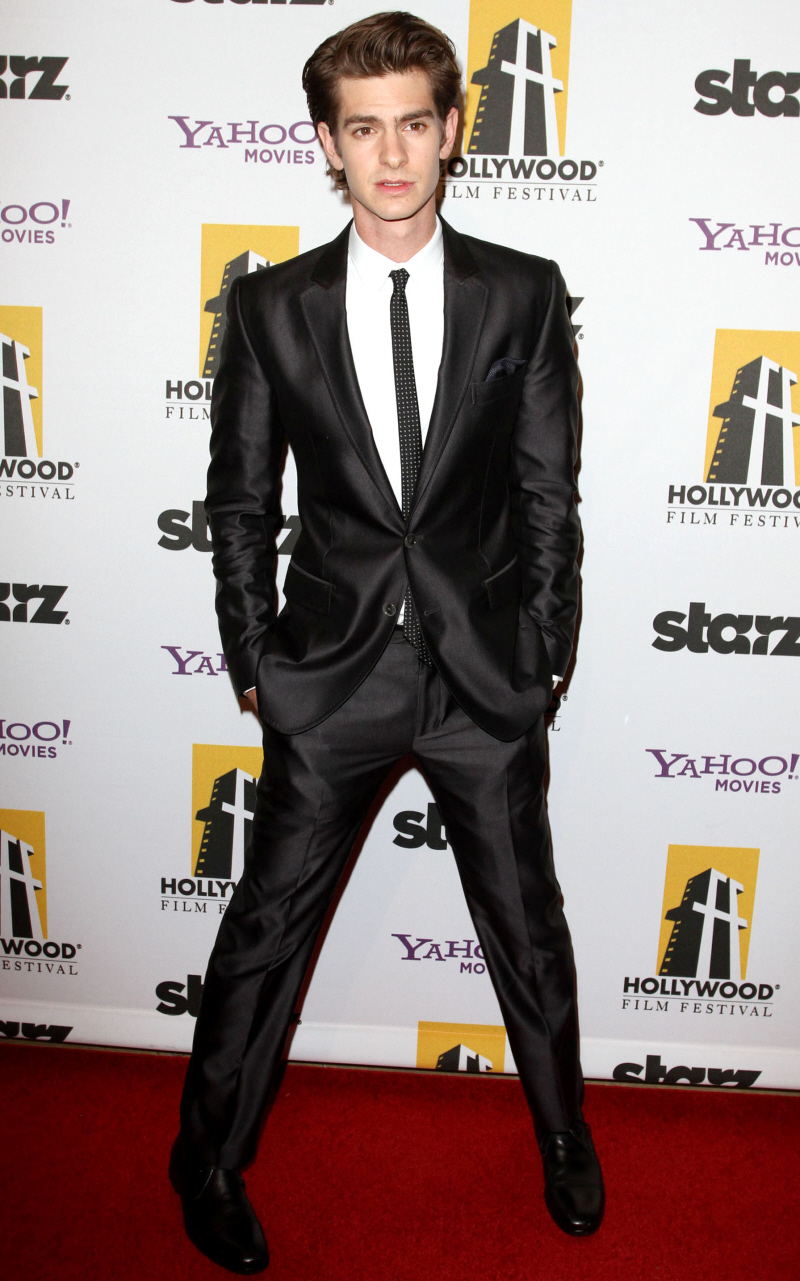 Andrew Garfield is my new crush. I just went to see The Social Network over the weekend, and Garfield is The One. I know everyone is saying that Justin Timberlake (playing Sean Parker) should be the one to get an Oscar nomination, and while JT wasn't bad (he was better than I expected), Andrew Garfield was acting his ass off! Garfield plays Eduardo Saverin, the "cofounder" of Facebook, and its first CFO. Saverin was Mark Zuckerberg's best friend, and Saverin also sued Zuckerberg when Saverin was cut out. Now, if any actor gets a nom from The Social Network, I hope it's him. Also: my thoughts on the movie, in case anyone is interested – it was good. Not great. Not "one of the best movies of the year" and not "Best Picture Oscar" good. But solid. Good script, solid-to-wonderful performances, and it was surprisingly smart. Sorry I'm so late to the game! Better late than never.
So, with my new crush flourishing, I want to know more about Andrew Garfield. So I looked up a few recent interviews with him, and he's slightly boring. But he's friends with Robert "The Sparkler" Pattinson, he's going to be the new Spiderman, and he'd totally get a sex change for a part, so at least my boy is trying to jazz it up!
Playing Spiderman in a big-budget blockbuster instantly sets Andrew Garfield out as one of the most macho newcomers in Hollywood – but the Brit actor has happily admitted he'd have a sex change if it meant getting future roles.

Garfield tells ShortList magazine: "A sex change? Yeah, I'd do anything! As long as they froze the member! It needs to be reversible!"

Despite such penile frankness, the 27-year-old actor knows that his new fanbase will be encroaching on the same territory as old mate Robert Pattinson – but denies there will be any negative competition between the two.

"I don't see it that way. Rob's a friend of mine and I care about him a lot," he says.
"We're very supportive of each other."

Andrew Garfield also was felt like he was "floating" in a bubble after landing the lead in 'Spider-Man'. He was thrilled to be told he would be playing the superhero in the upcoming installation of the superhero film franchise, but had to remind himself he was only playing the role and not becoming Spider-Man in real life.

He said: "When I found out about being cast in 'Spider-Man', it was like this bubble developed around me. I was floating in it for a while. And then, suddenly, it evaporated, and I was like, 'Well, I'm just an actor. I don't get to actually be Spider-Man.' But maybe I'll have moments where I'm convinced that I am and those periods of fantasy will get me through."

However, the hype around his role as Peter Parker and his alter-ego have helped Andrew understand the problems his new character would face.

He said: "I think it's going to be a little bit more complicated than what I imagined. And, of course, I'm going to feel a great pressure, which might be one of Peter Parker's great struggles, in having to live up to this thing that he is supposed to be or symbolises. It will be interesting. I think the more I can tie into my own reality, the better and more enriching it will be for everyone involved."
[From The Daily Mirror, Monsters & Critics]
Andrew is British and American, and he's 27 years old and… he reminds me a lot of Hayden Christensen. Which is weird. He looks like Hayden (sort of) and he talks like Hayden, and they have some similar mannerisms. Has anyone seen Hayden around lately? But, seriously, Andrew is like the more butch version of Hayden (not that that's saying much). Where Hayden always looks like he's about to cry, Andrew looks like he's about to tell you off. Also, he's got great shoulders. Too bad he doesn't photograph very well. He looks like an awkward baby bird in photos – he just needs to learn how to pose on a red carpet. Otherwise, my crush is in full bloom now!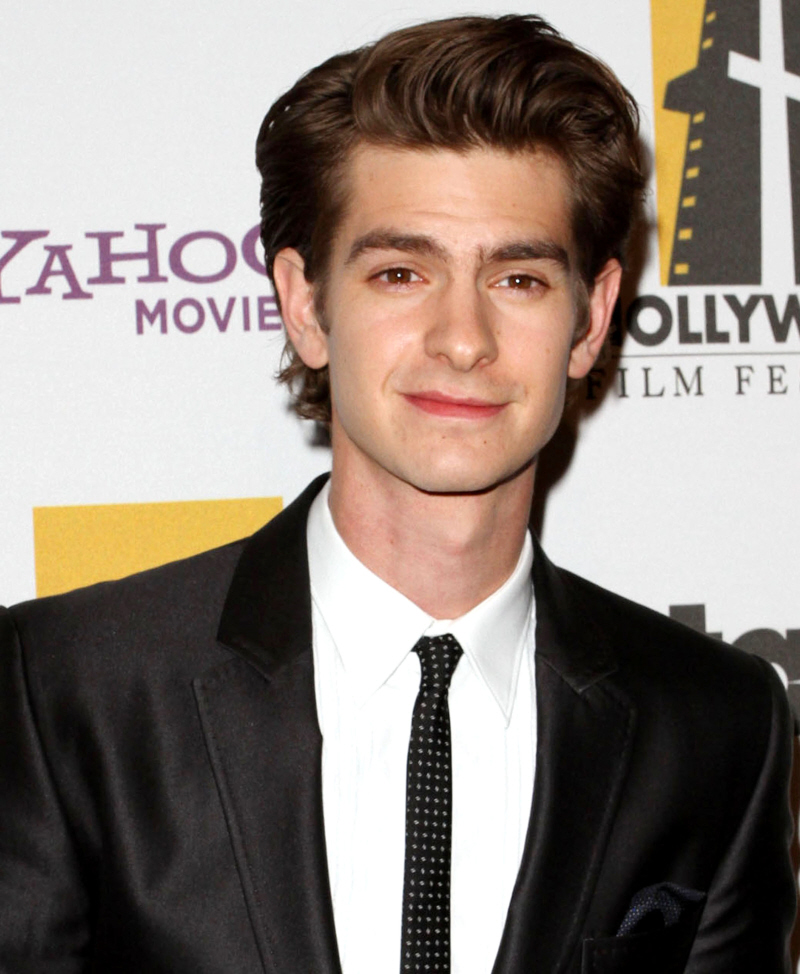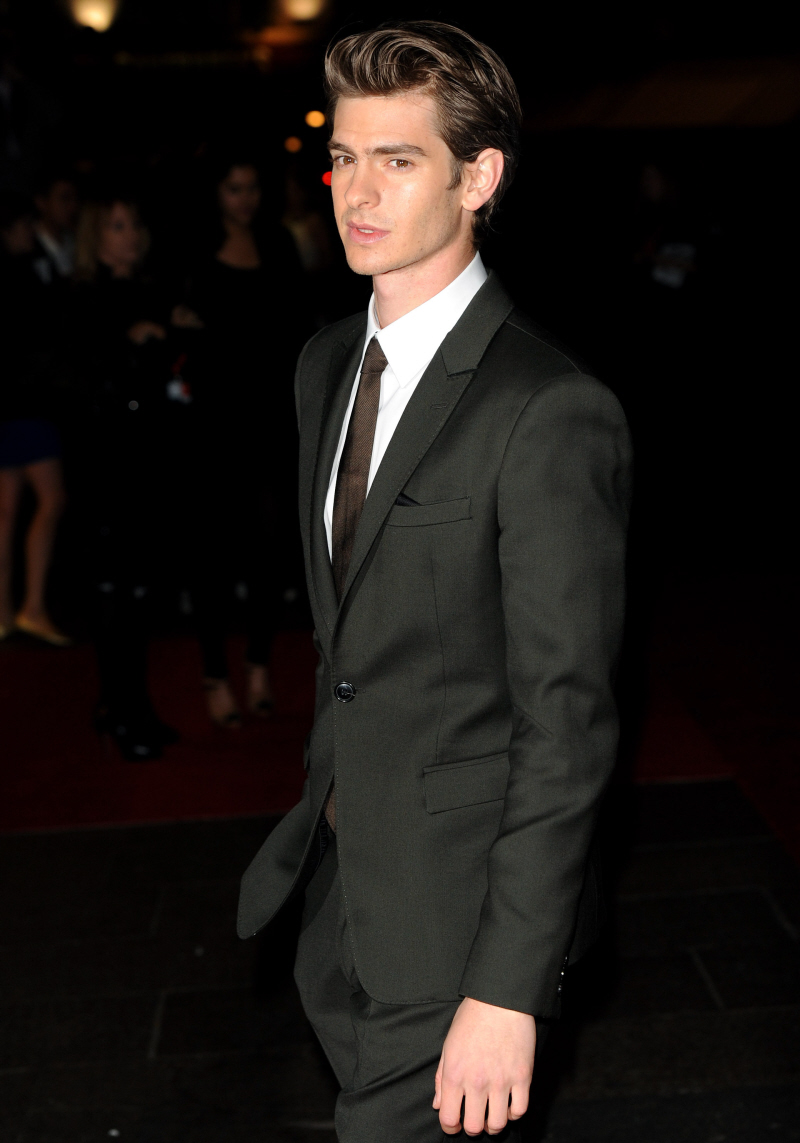 Photos courtesy of WENN.