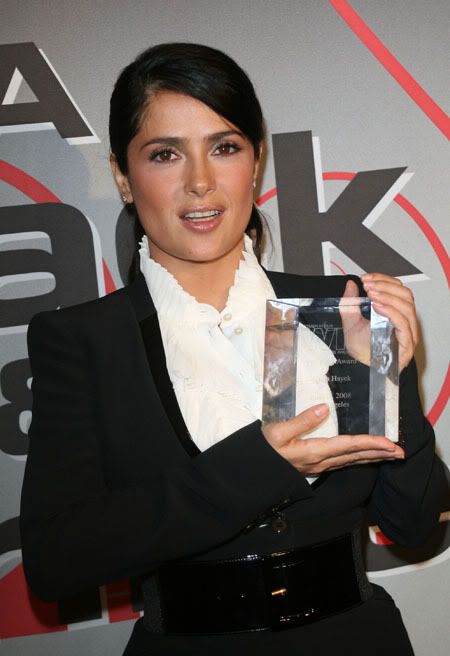 The powerful women of the movie industry gathered last night at the Women in Film Crystal and Lucy awards, hosted by Aisha Taylor. Salma Hayek was honored for the success of the show she produces, Ugly Betty. In her acceptance speech she said that 41 was the best time of her life:
"I'm 41 now," she said while being honored at Tuesday's Women in Film Crystal+Lucy Awards. "And I have to say, it is the best time in my life."

That prompted Jada Pinkett Smith – who was also being recognized, along with her costars from the upcoming chick flick, The Women – to shout out, "You look good!"

Hayek – who gave birth to daughter Valentina Paloma last September with billionaire fiancé Francois-Henri Pinault – said she is finally coming into her own.

"I have learned to enjoy time to be a woman. I have learned to enjoy how to do the most that I can with what I have," the Ugly Betty producer explained. "It is a good thing to be a 41-year-old Latina woman in America."

She also gave a shout out to fellow Latina Eva Mendes (another star of The Women), who responded with a loud, "I love you, Salma!"
[From People.com]
Salma also said she wanted Ugly Betty to be accessible for everyone, with a focus on Latin people. "I wanted it to be different than anything I was seeing on television. I also wanted Latin people to feel excited and proud that there was something on television that sort of belonged to them, but I wanted the American audience not to feel alienated from it." [via]
Shown last night are Cameron Diaz, Nicole Richie, Eva Mendes, Maria Bello, Annette Benning, Jada Pinkett Smith looking like she sucked a lemon, Meg Ryan, Debra Messing, Holly Robinson Peete, Debi Mazar and Rumer Willis. Thanks to WENN for these photos.