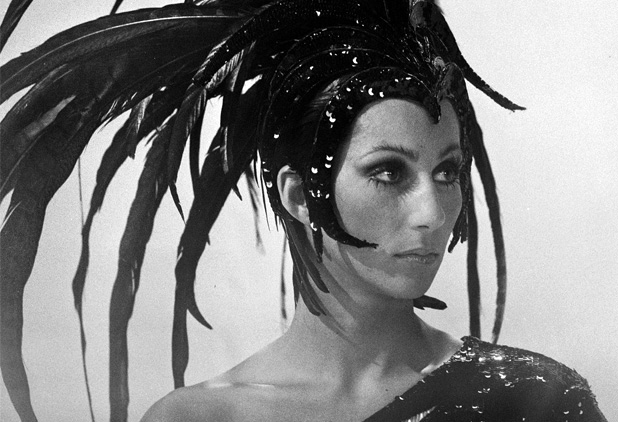 Cher is the December cover girl for Vanity Fair. She's promoting her role in Burlesque, which looks like an even more budget version of Showgirls, only with more pancake makeup, I think. VF released some excerpts from the interview, and it sounds like no subject was off-limits for Cher, for which I give her credit. A lot of stars of Cher's caliber and worldwide acclaim could just phone it in and demand that a lot of subjects be off-limits (hello, Madonna), but not Cher. She discusses in detail her struggles with her daughter's gender reassignment from Chastity to Chaz, as well as Sonny Bono, aging, fashion and why Meryl Streep is a "stupid bitch". Here's more:
Cher tells Vanity Fair West Coast editor Krista Smith that she can't believe "Sonny and I still aren't in the [Rock and Roll] Hall of Fame, and it just seems kind of rude. Sonny was a good writer, and we started something that no one else was doing. We were weird hippies before there was a name for it, when the Beatles were wearing sweet little haircuts and round-collared suits…. We influenced a generation, and it's like: What more do you want?"

As for her daughter turned son, Chaz, Cher says, "If I woke up tomorrow in a guy's body, I would just kick and scream and cry and f-cking rob a bank, because I cannot see myself as anything but who I am—a girl. I would not take it as well as Chaz has. I couldn't imagine it." While Cher remains a proud mother, she admits to Smith that she still gets confused: "She's a very smart girl—boy! This is where I get into trouble. My pronouns are f-cked. I still don't remember to call her 'him.'"

Of her secret to remaining in the spotlight for the past five decades, Cher tells Smith, "I feel like a bumper car. If I hit a wall, I'm backing up and going in another direction. And I've hit plenty of f-cking walls in my career. But I'm not stopping. I think maybe that's my best quality: I just don't stop."

Cher opens up about her feelings for Sonny, and their tumultuous marriage, saying that Sonny "told me when we were together, 'One day you are going to leave me. You are going to go on and do great things.' … I wouldn't have left him if he hadn't had such a tight grip—such a tight grip." Cher tells Smith that Sonny treated her "more like a golden goose than like his wife…. I forgive him, I think. He hurt me in so many ways, but there was something. He was so much more than a husband—a terrible husband, but a great mentor, a great teacher…. If he had agreed to just disband Cher Enterprises and start all over again, I would have never ever left. Just split it down the middle, 50-50."

Other highlights of the article include:

Cher on Sarah Palin and Jan Brewer:
"I got so obsessed with [C-SPAN] that it was kind of interfering with my life. Sarah Palin came on, and I thought, Oh, f-ck, this is the end. Because a dumb woman is a dumb woman." On the subject of Arizona governor Jan Brewer, Cher says, "She was worse than Sarah Palin, if that is possible. This woman was like a deer in headlights. She's got a handle on the services of the state, and I would not let her handle the remote control."

Cher on her family and drugs:
"It's weird, because both of my children had the same drug problems as their fathers—same drug of choice. My father was a heroin addict, and my sister's father was an alcoholic. But it jumped us…. I didn't not do drugs because of moral issues. I tried a couple of drugs, but I never felt good out of control. I have the constitution of a fruit fly. I can't do coffee, but I can do Dr Pepper."

Cher on aging:
"I think Meryl [Streep] is doing it great. The stupid bitch is doing it better than all of us! But I don't like it. It's getting in my way. I have a job to do, and it's making my job harder…. I've been screaming at the top of my lungs at my family, 'Work out! Work out! Old age is coming!' At some point you will need the strength. Who would have ever thought you would get this old?"

Cher on parenting and whether her children are still angry with her:
"I think Chaz is pretty much finished with it, and I think Elijah has a little longer to go, but they both really love me a lot. But it's hard… One time, when Chaz was little, we were on a field trip, and she said, 'I'm so pissed off, Mom. You can never not be Cher—we can never just do something.'" She concludes, "So your kids pay. I did the best I could do, and yet it was definitely lacking."

Cher on paying taxes:
"I would be willing to pay a lot more taxes, because I make a lot more money, but I don't want to give them more to just f-ck things up more. It really should fall on people like me to get together and do things to help the people in this country. If you're not worrying about how to put food on your table, you [should be] worrying about why other people don't have food on their table. I remember a great America where we made everything. There was a time when the only thing you got from Japan was a really bad cheap transistor radio that some aunt gave you for Christmas."

The December issue of Vanity Fair will be available on newsstands in New York and Los Angeles on Thursday, November 4, and nationally and on the iPad on Tuesday, November 9.
[From Vanity Fair]
I mean… at some point, Cher became the half-dressed old lady who sits on her front porch, screaming obscenities at the mailman. When did that happen? She's still kind of fabulous though – and you can tell she's joking about SOME of this stuff… like calling Meryl a "dumb bitch". Just FYI, they are close friends! They've been tight ever since they did Silkwood back in the 80s. As for Chaz, you can tell Cher really is struggling, but that she still loves Chaz so much, and she's willing to accept him however he comes.