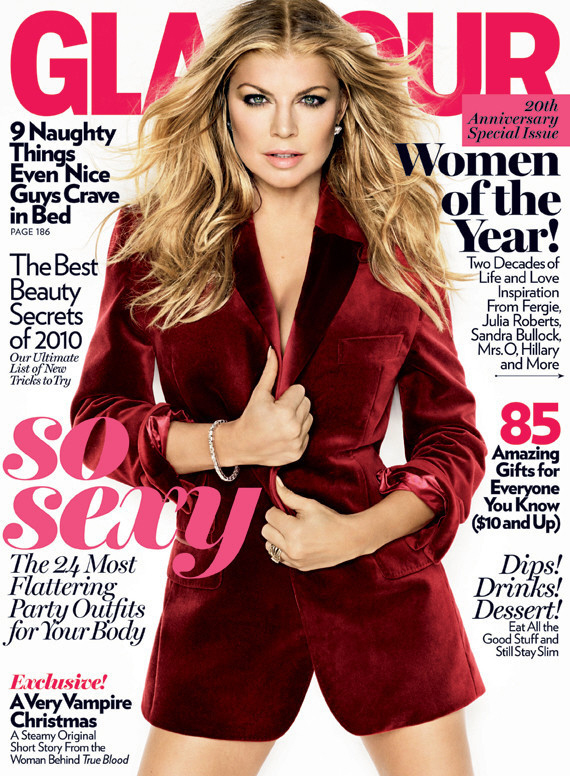 Fergie is the December cover girl for Glamour Magazine. Taking notes from Raccoon McPantless, I see. Honestly, I don't mind the blazer-and-no-pants combo, but what does bug me is that Fergie's thighs look crazy Photoshopped. I've never considered Fergie a great beauty or anything, but I do think her curvier, "thick" body is really nice, and from what I remember, those are not her thighs. Anyway, the full Glamour interview is here (done by Katie Couric), and here are some of the highlights:
Fergie on her success: "Well, for some lucky reason or gift from God, I've known what I wanted to do since I was a little girl. And even through disappointments and rejection, there was something inside of me that wouldn't give up. I'm a survivor, and I'm very driven."

On working out: "I work out all the time… Cardio, resistance and a lot of jogging. I love to go hiking. I'm bringing my trainer on tour. I said I'm going to invest this in myself, into my self-worth, into my self-esteem."

On women with low self-esteem: "It's become actually the norm, I feel. And it's really sad. The thing that I can say is, you're not alone. [And if] you start making the right choices for yourself, all of a sudden you start feeling better and better. You'd be surprised how addicting high self-esteem is."

When asked about her "sobriety" in the context of her crystal meth addiction: "Well, I'm not claiming to be sober. I think that that would be misleading. I drink alcohol. My father has a vineyard, and [the wine is] really delicious, by the way. Anyway, for most addicts, they would advise never to have any sort of substance. I just have my own journey, and I am very blessed to this day to be alive."

Advice to young women: "Eye cream. No. [Laughs.] I mean, that is one. But that's the most shallow one of them all. Basically, there were periods of my life when a lot of people didn't believe in me. [But] I still had faith in myself. I really had to ask myself life questions. Where do I see myself in five years? Create a ladder for yourself, and walk up the steps. Climb that ladder."

On having babies: "They are on my list of goals, yes. [Laughs.] Well, a girl's gotta keep something private. But yes, it's on the ladder."
[From Glamour]
Couric also asked Fergie about the situation last year, when the Enquirer called Josh Duhamel out for being a cheater, and f-cking some $10 stripper in Georgia. Couric really climbs up her ass with this one:
KATIE COURIC: Let me ask you about your cute husband, Josh. You guys have been married for almost two years, and I remember feeling for you during the first year, because you had to put up with so much garbage in the tabloids. How did you get through that?
FERGIE: Just by knowing that our relationship was stronger than that. We live in a voyeuristic world, and it's part of our business. But I like to [focus on] all the perks that I get in this business.

KATIE COURIC: Rebecca Fuller Kinsey of Atlanta asks, "How do you handle it when women are flocking all over your sexy husband? Does it ever bother you?" I guess we could ask Josh the same question, right?
FERGIE: [Laughs.] Well, I knew, getting into a relationship with him, that girls were very attracted to him. He was filming a show called Las Vegas and was constantly around half-naked women. It was just the premise of the show. For me, I'm not a jealous person. That's just not my thing. You have to have trust in your relationship.

KATIE COURIC: And self-confidence too, I think.
FERGIE: I think a lot of young teenagers try to get [esteem] from accolades from other people, or boys, and what you learn as you get older is that you have to create that within yourself.
[From Glamour]
Is Fergie really this self-confident woman? She seems to really want people to think that she is, but I'm not really buying. I also wonder about the issue of sobriety – I think the most successful recovering addicts tend to stop doing everything, you know? Even if they were a heroin addict, they stop drinking as well, even though they didn't have a history with alcohol abuse. Isn't it very common for another addiction to take the place of an old addiction? So, I question how wise it is for Fergie to still be drinking with her history of drug abuse. But, whatever, I'm not a doctor.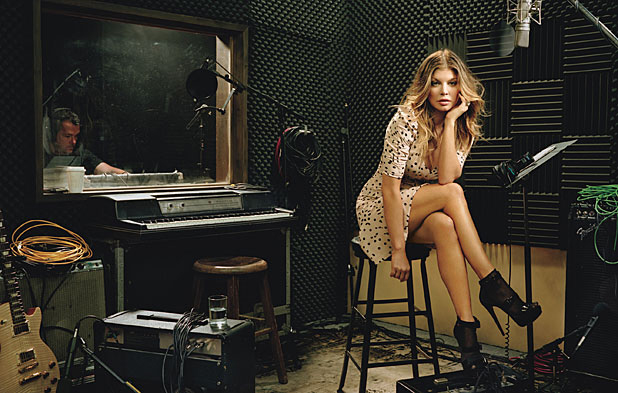 Glamour cover courtesy of HuffPo. Additional photo courtesy of Glamour.