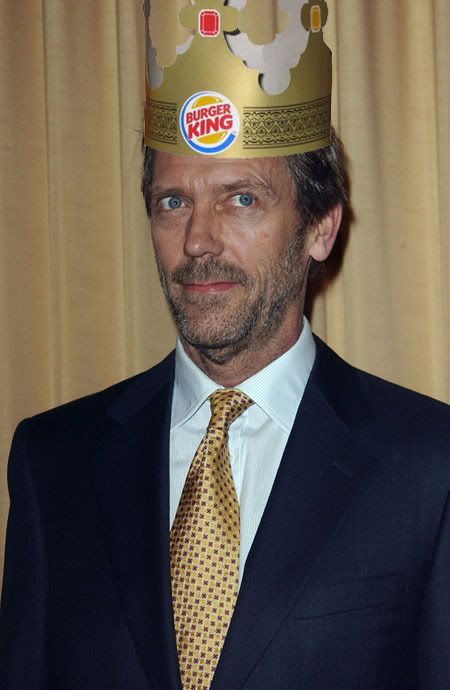 Celebrities are known to get lots of free stuff, not just in swag bags at events but generally they are sent things for free. The theory is that the celebrity will be seen wearing an item which will generate demand for the brand.
I've seen some clothes that I would love to have gracing my wardrobe, but I have never been so envious as I am of Hugh Laurie's celebrity perk.
Laurie – a human being so lovely and bright that, in a troubled world, merely uttering his name feels like saying a prayer – has been displaying superlative, ground-level analysis of the swings-and-roundabouts nature of fame. "[Being famous means that] you can get a table in a restaurant," he muses. "But then you've got to go past a line of people who can't get a table – and that's a bad feeling." But he goes on inadvertently to blow the lid off what will, surely, become one of the big media talking-points of the year. "I've [been given] a Burger King Gold Card," he said casually.
The Burger King Gold Card entitles you, says The Times, to free burgers for life.
I love Burger King. I hold them entirely responsible for my pregnancy weight gain, despite the fact that I was the one shoveling it into my mouth at the time. For once I am green with envy.
The Times comments that this will be the 'new high water mark of celebrity and power', and that they also mention that Jay Leno has one. I guess this would actually be something that we common folk could envy, because I think just about everyone has eaten fast food. The previous 'item to have' was the American Express black card, which was used frequently by Jessica Simpson on Newlyweds where she commented that they had a limit on how many people could have one.
This puts my McDonald's drive thru sticker to shame.
Hugh Laurie is shown scruffy and making a cute face at the Prism awards on 4/24/08, thanks to WENN.