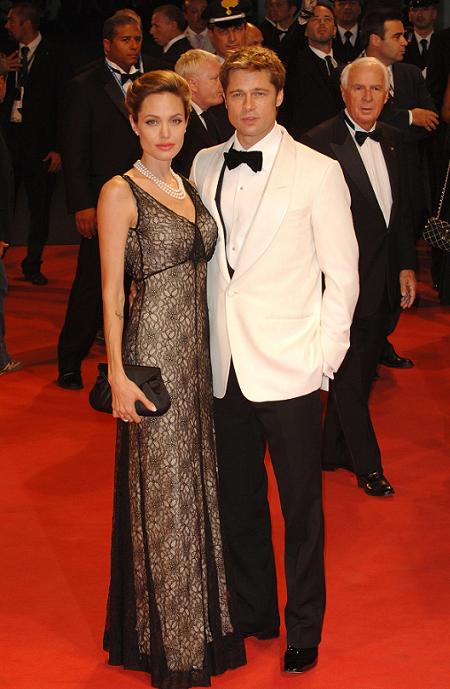 Update: This story is false, according to reps for the couple.
---
After owning their New Orleans home for a little over two years, Angelina Jolie and Brad Pitt have sold it, according to Ted Casablanca from E!. Who says it's a bad time for real estate? The news is a little surprising, considering the homes Brad's been helping build in the Lower 9th Ward with the Make It Right project – and his often mentioned love of the city. Last year he noted:
"I can't describe why were allowed to live a more normal life (in New Orleans)."

The thing he misses the most, he said, is bicycling through the streets of New Orleans at night.

"Living in the French Quarter is a thrill for us," he said. "We have some semblance of real family life. People have been very, very gracious with us. If we're on the front deck, people go by and say, 'Hi.' Then they go on their way, very friendly."

Pitt visited New Orleans in the early 1990s during the filming of "Interview with a Vampire" and took up semi-permanent residence early this year while filming "The Curious Case of Benjamin Button." He said that he has been impressed with the city's never-say-die post-Katrina spirit, especially in the hardest hit areas.

"For me, first as a tourist, it's the most unique city that we have in the States," he said. "It has an energy like no other place. You guys shouldn't change a thing. I've got to get me some of it. I absolutely love it there. We moved our family there. We've got a place there and we're intermittently going back and forth. We're in Prague now because of work. We'll be back there soon."
[From The Times-Picayune]
I guess not so much. Considering how much the entire Jolie-Pitt clan supposedly loved New Orleans – and Brad's comment that it's "the most unique city that we have in the States," the sale of their home seems to be further evidence that the family will probably continue to live overseas for the near future.
The couple has been just as plagued by paparazzi in their French town of Correns, where they're leasing a home. However it appears the locals have generally taken to the couple. According to Reuters, you get a free glass of pastis if you can get a ridiculous Brangelina story published. I guess they're trying to keep the paparazzi on their toes. Or annoy the crap out of them.
Here are Brad Pitt and Bill Clinton breaking ground on the Make it Right project in New Orleans in March. Images thanks to Splash.
---
Update: This story is false, according to reps for the couple.