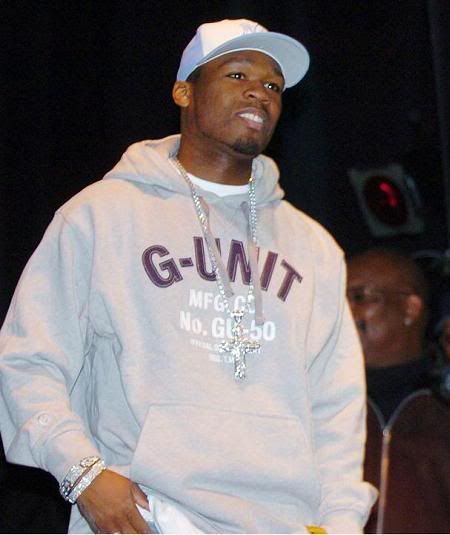 50 Cent (or Fiddy, as I've been instructed to call him) is having some major legal problems lately. He'd been battling his ex-girlfriend Shaniqua Tompkins, the mother of his son Marquise, 11, over a $2.4 million Long Island home for the better part of a year. Then the home suspiciously burned to the ground on May 30th – with both Marquise and Shaniqua asleep inside. Shaniqua immediately started publicly blaming Fiddy for the fire – and now she won't let the rapper visit his child, talk to him, or even know where Marquise is living.
"He tried to kill me and his own child," Tompkins has declared. "I know this came from 50 Cent." While arson investigators probe the Dix Hills fire, Fitty's legal team is drafting a defamation complaint against Tompkins.

"There comes a point where you can no longer sit on your hands and listen to her spread these falsehoods," 50's lawyer, Brett Kimmel, tells us. "Besides hurting his reputation, they have a damaging impact on their son." The hip-hop king (real name, Curtis Jackson) charges that since the fire, Tompkins has refused to let him see Marquise or tell him where he's living. Tompkins has "made it practically impossible" for 50 to speak to or see his son, according to a petition filed this week in Suffolk County Family Court.

50 says that when he learned Marquise's cell phone was destroyed in the fire, he sent him a new one, along with a duffle bag of new clothes. Tompkins has "failed and refused to give the cell phone to Marquise," 50 alleges. "The only way [50] can communicate with his son is to call [Tompkins'] cell phone. On June 11 … [she] did permit [50] to speak with his son. However … she was hovering over Marquise, monitoring the conversation and, after a short while, she interrupted the conversation by taking the phone from Marquise and began yelling at [50]," who eventually hung up on her.
[From the Daily News]
Fiddy says Shaniqua is breaking their custody agreement, and is asking a judge to let him see his son. So far the courts seem to be siding with 50 in nearly everything: ten days after the fire, Shaniqua was ordered to pay him $4,500 in back rent in addition to the $9,000 she had already been ordered to pay. Fiddy has been paying $6,700 a month in support – $4,500 is a housing allowance. Shaniqua had maintained that she is still owed 50 Cent's (formerly) $2.4 million house because she needs a place to raise their son. In addition to the housing allowance.
Considering how crazy her logic has been, I'd say Shaniqua's as legitimate a suspect as Fiddy.
Here's 50 Cent and The Game sharing the stage during a news conference at the Schomburg Center for Research in Black Culture in Harlem on June 9th. Images thanks to WENN.