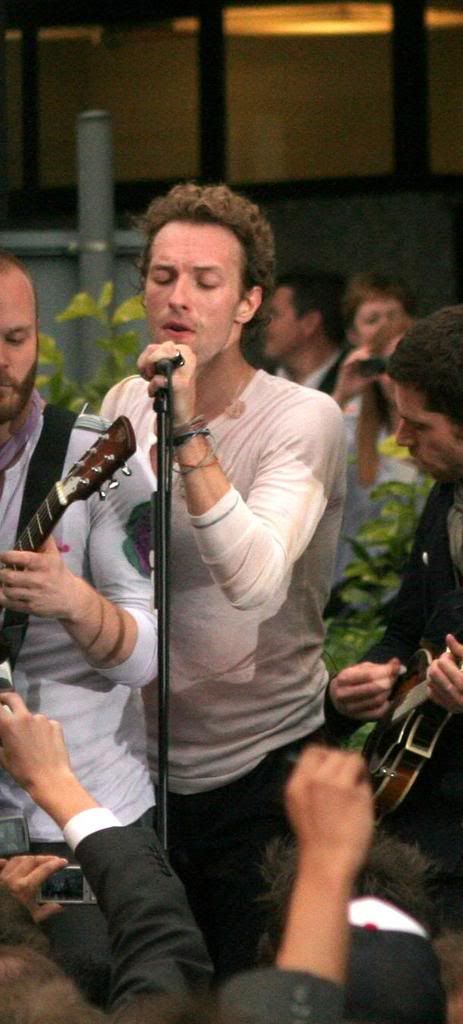 Chris Martin got a good deal of bad press last week after he walked out of an interview on BBC's Radio 4. The interviewer had stuck to Martin's rule about not asking personal questions – especially concerning his famous wife, Gwyneth Paltrow. Yet Martin bolted anyway. Celebitchy thinks he probably regretted being so candid in a Rolling Stone interview he did right before then. It must have left him quite on edge. In the Rolling Stone interview, Martin admitted that he hasn't exactly been a legendary romancer of women.
"I've only been in one serious relationship," says Martin.

And you guessed it. It's with Gwyneth Paltrow.

"…This is the only one. Is that weird? I don't think it's that weird. It wouldn't be weird 200 years ago."
[From Cover Awards]
I don't think that's weird in and of itself, it's just very unusual for a famous musician. Coldplay doesn't have groupies? Or they didn't back in the day when Martin was single? I could jump on the "bash Coldplay to death" bandwagon right now, but I'll refrain. But I actually think that's pretty sweet. No wonder Martin has admitted to feeling jealous of Paltrow's ex, Brad Pitt.
Martin also gave his thoughts on the upcoming presidential election, and his hopes for Barack Obama.
[Rolling Stone]: Do you see any reason for hope?
[Chris Martin]: As soon as Barack Obama becomes president, people will be a bit more optimistic. If Obama was to be president, it would immediately change the whole outside world's opinion of America overnight. America's public image at the moment is really bad. And it's a bummer, because over half of Americans are the coolest people on the planet. But they've been so misrepresented.

[Rolling Stone]: Do you think he can win?
[Chris Martin]: I do. But I think that, really, the fair thing would be, in electing the American president, to let everyone in the world vote, because it affects all of us. If there was a world vote, there's no question who would win. No question. Of course, Barack Obama is human like the rest of us. He's going to f@$# up. But I'm just trying to look on the bright side. What's the point of being negative? Where does that get us? It gets you your own radio chat show, but it doesn't really do anything for the world.
[From Rolling Stone]
I'd never really thought about it in those terms, but I like his point that the whole world should get to vote for the US president. I don't think I'd want it to happen, but the idea makes a lot of sense conceptually.
The next five months are going to be filled with celebrity comments on politics. Between the economy and all the natural disasters that have happened lately, it feels like everything's going to hell in a hand basket. It's nice to hear a bit about the good of staying optimistic. Even if the only reason is what Martin noted: "What's the point of being negative?"
Here are Chris Martin and Guy Berryman of Coldplay performing a free concert at the BBC Television Centre in London yesterday. Images thanks to WENN.