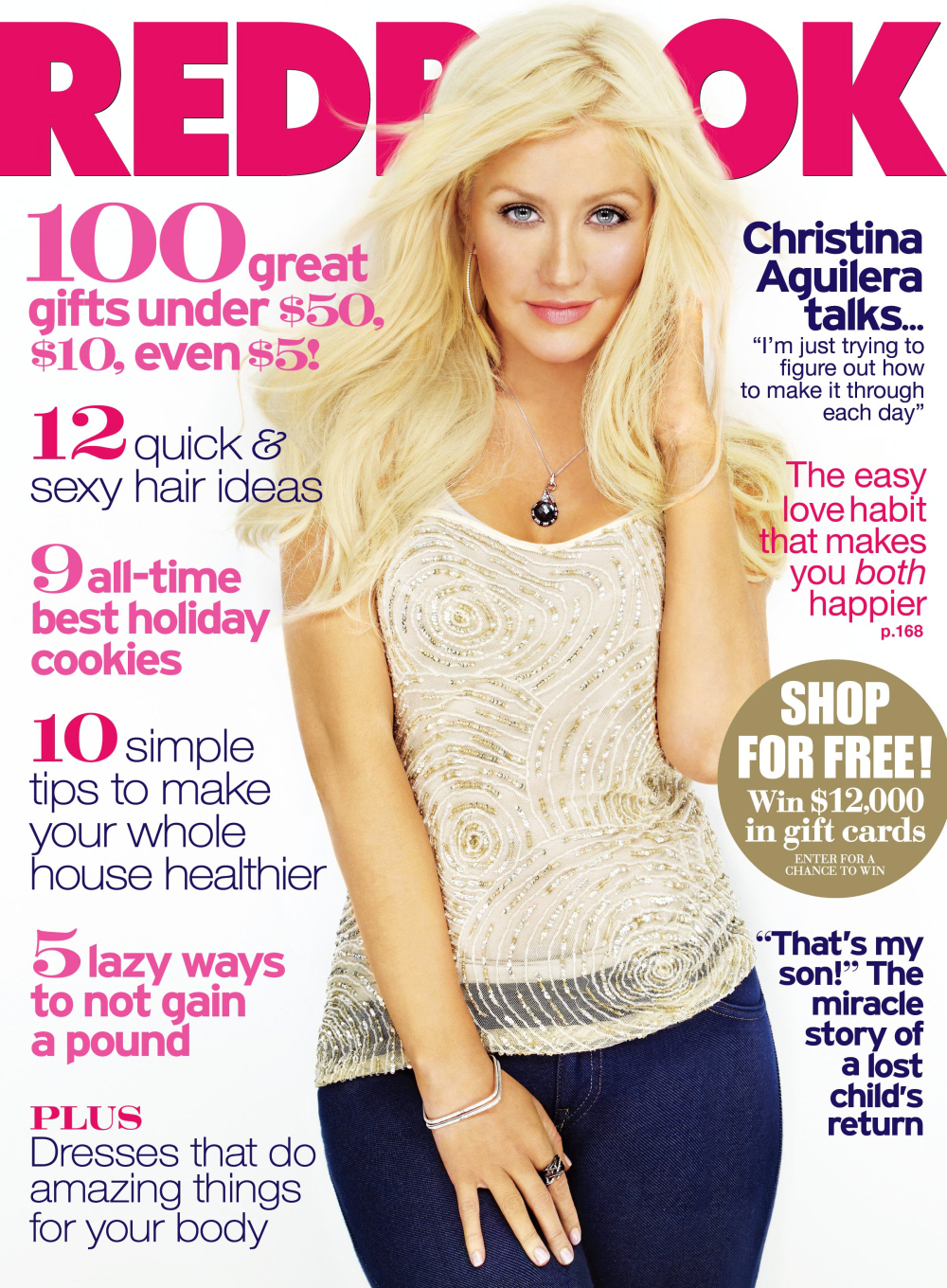 Christina Aguilera is the cover girl for the December issue of Redbook. I'm feeling slightly overwhelmed, and it has everything to do with this absolutely terrible Redbook cover where Christina looks nothing like herself. Do you need to see what Christina really looks like? Look at this. Now look at the cover. Yeah. The makeup people were trying to de-orange her and the hair people were trying to get her hair to not look like brittle straw, and the lighting people were like "I quit" and so it fell to the Photoshoppers to try to make Christina look human. As for this Redbook interview – it was done when Christina and Jordan were already split up, but before she had confirmed it publicly. Still, Redbook managed to squeeze out an exclusive already, and this is just more of the same:
Christina Aguilera's career is soaring to new heights, even as her personal life hits a low — and in the December issue of REDBOOK, Aguilera talks candidly about the breakup of her marriage and what gets her out of bed in the morning: inspiring work, loyal girlfriends, and devotion to her little boy, Max.

Plus, she opens up about balancing work and motherhood, her career, and big-screen debut — and Cher, who became a close confidante to Christina on the set of Burlesque, also reveals details from the set.

"Every woman has the ability or the drive to do it all and have it all," says Christina, who separated from her husband, Jordan Bratman, just two days before REDBOOK's photos were taken. "Men aren't as strong and capable as we are. We're machines."

On balancing work and motherhood: "My life is cyclical. First it's album time, then it's touring time. I go through phases, so we roll with the punches. I'm not a 9-to-5 woman who has the same kind of lifestyle for years on end. I couldn't do it. I need the spontaneity, that thrill of change. That's part of how I get inspired. You know, this is what the cards have in store for Max. We put it into his brain early on that he's a traveling guy. He adapts well when we go from hotel to hotel."

Christina's close friend, Nicole Richie is a key member of her support system: "It's very clear through Christina's music what a strong woman she is," Nicole told REDBOOK. "But to watch her as a mother only skyrockets the respect I have for her. She is the woman who's recording until 4 a.m. and up at 7 to be with her son. Her dedication to Max is incredible."
[From Redbook]
Yes, Christina is an artist and she is a strong woman and she is a world-class mother! That's what we should be focused on. Not the alleged "hot and heavy" affair with Samantha Ronson. Not trolling for strange vagina in seedy bars and clubs for the length of her marriage. MOTHERHOOD. Mommommommommom. Have you forgotten Sam Ronson yet? MOM. SHE'S A MOTHER.
Cover courtesy of Redbook.