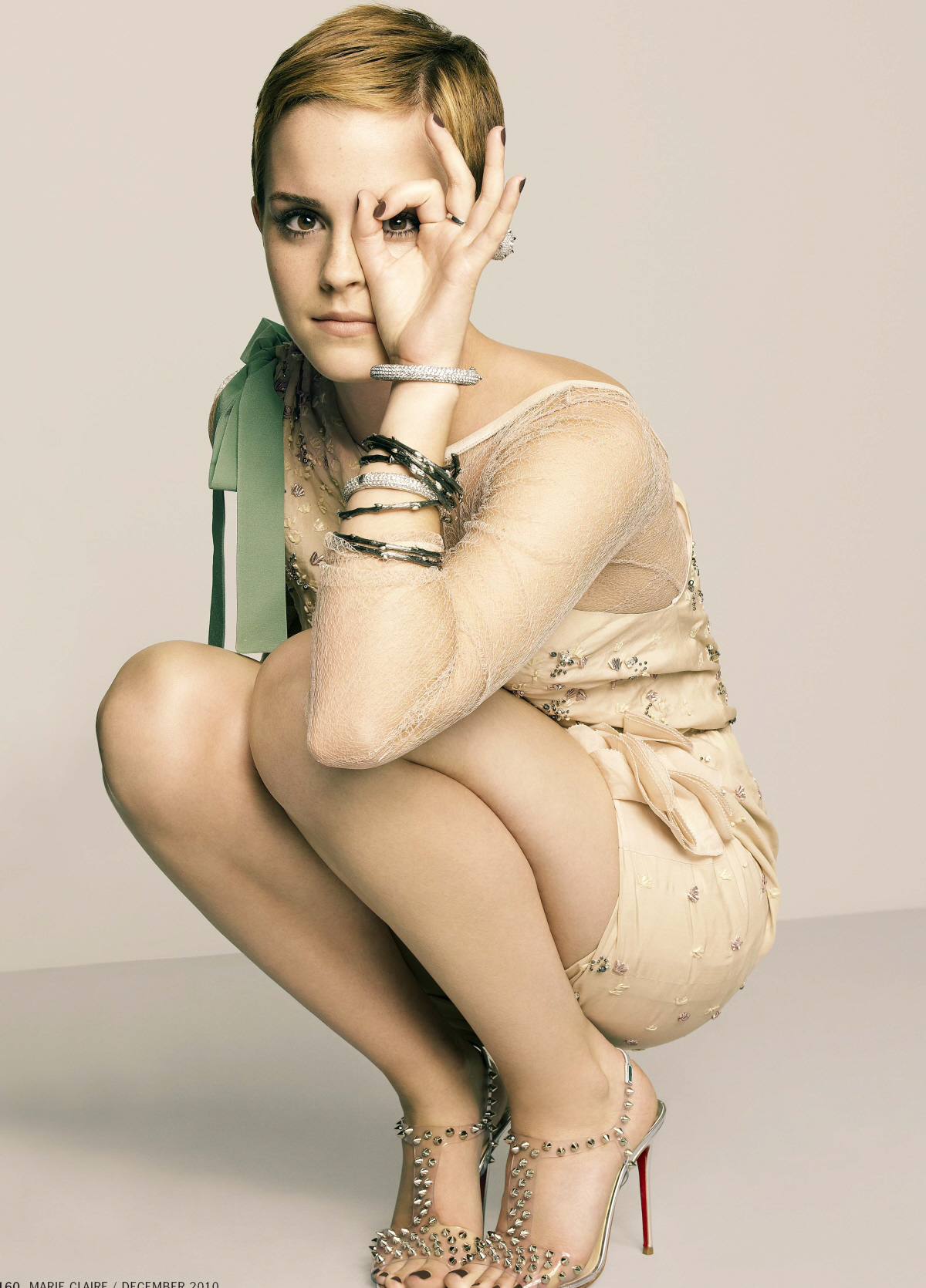 Emma Watson is the adorable cover girl for the December issue of Marie Claire, all to promote Harry Potter and The Machine of Money. In the above photo, I love her hair. In another shot (below), I don't care for it as much. But I like the fact that she cut it all off after being contractually obligated to wear it long for so many years. I also think her shorter hair works well with the new image she's trying to forge for herself, post-Potter. She's a Brown student and a working actress, and she will study hard and take supporting parts. I've said it before, but she seems really grounded and like she's genuinely a sweet, good girl. We'll see. Marie Claire's full interview excerpt is here, and here are some highlights from the interview:
Emma on her parents: "I've had so much freedom: sometimes it's been hard. My parents wanted to protect me, but they had no idea how."

On her hair: "I've wanted to do it since I was about 16, and when Harry Potter ended in June, I just needed a change " Watson said. "It was quite symbolic for me. It's very short; it was buzzed at the back and on the sides. And it's really liberating that I can walk out without thinking about it."

On being a student in America: "The first year at Brown was about finding my feet," she said. "I found a great group of girlfriends, and now that I know how things work and what the professors expect, I'm really excited about going back for my second year, because I feel this time I can relax and enjoy it." Watson is deeply grateful for the way she's been treated by her peers. "Brown has a real sense of community, and people are very protective of me," she said. "They really look out for me; they want me to feel like I'm part of it. I threw my 20th birthday party at Brown, and I didn't even have to say to anyone not to put pictures on Facebook. Not a single picture went up. That was when I knew I'd found a solid group of friends, and I felt like I belonged."

On the end of Potter: "My last day was pretty emotional," she admitted. "It was sad; it's the end of an era. What an amazing learning experience! I gave everything I could to that role, and I got so much from it. It wasn't like I made one movie; it was working consistently for 10 years. There was no reprieve," Watson said. "But I'm glad I saw it through to the end; I played that character from the start, and I wanted to finish what I started. It felt very satisfying that I had completed Hermione's journey. Playing Hermione just came so naturally; I had a real affinity for her," she said. "I felt like I knew exactly who she was. Like me, she's very loyal and determined, she's very intelligent, and she has a lot of guy friends, as I do. Her eagerness to please and to have the right answer is definitely like me. I'm a perfectionist, so my bossiness definitely comes out."

On becoming a child actor: "I started working on the audition at 9 in the morning and didn't stop until 5 in the evening," she recalled. "The tape was just me doing the same thing hundreds of times over, until I got it exactly right. I was just amazed at my stamina. The grown-ups said, 'We had to stop you; you wanted to keep going.' I've always been like that; I give 100 percent. I can't do it any other way." Watson's parents, who divorced when she was very young, are both lawyers—her father is a telecommunications attorney, and her mother is a solicitor—but their little girl made it clear they were not to stand in her way. "I would never have forgiven my parents if they had made me turn down that opportunity," she said. "I just loved performing. It just made me feel alive. It's scary, but that's part of it. I think it's important to have that extra adrenaline. It gives you that extra zing."

On not needing to rebel: "I do things in my own way, but I've never felt any need to rebel," she said. "To be honest, I've always had far too much freedom. I had a job when I was 10. I started living on my own when I was 17 or 18. I've earned my own money; I've traveled the world. What would I rebel against? I've had so much freedom, sometimes it was hard. My parents wanted to protect me, but they had no idea how to. I had to learn as I went and make my own mistakes. I went from being totally unknown and never acting professionally to being in a major movie and being very famous. It all happened so quickly, I didn't have any time to work things out. It's been pretty scary at times."
[From Marie Claire]
That last part really struck me – because that's what someone like Lindsay Lohan had too, didn't she? She had so much freedom at such a young age, and no one had any idea how to protect her either. So why did Emma end up such a good egg and Lindsay ended up such a f-cking crackhead? Was it that Emma's parents actually grounded her, even if they didn't know about the world she was in? Was it because Emma's parents weren't partying with her and taking their "manager's cut" from her earnings? I don't know. But I think I may be on to something.
Here's Marie Claire's behind-the-scenes video of the photo shoot: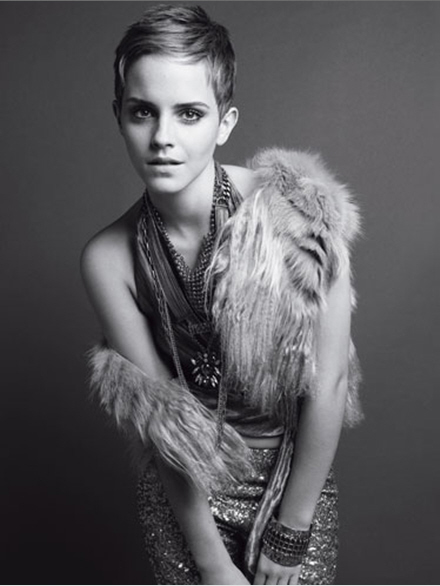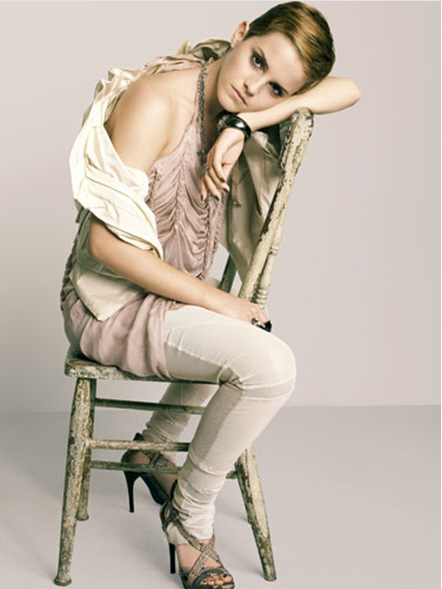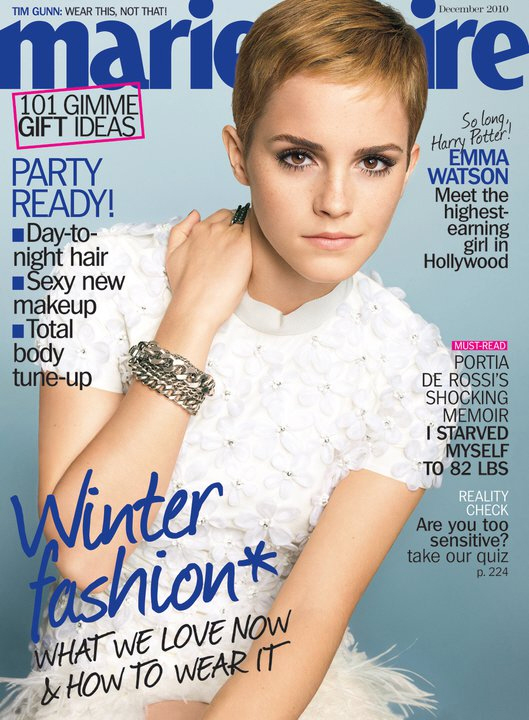 Photos courtesy of Marie Claire.