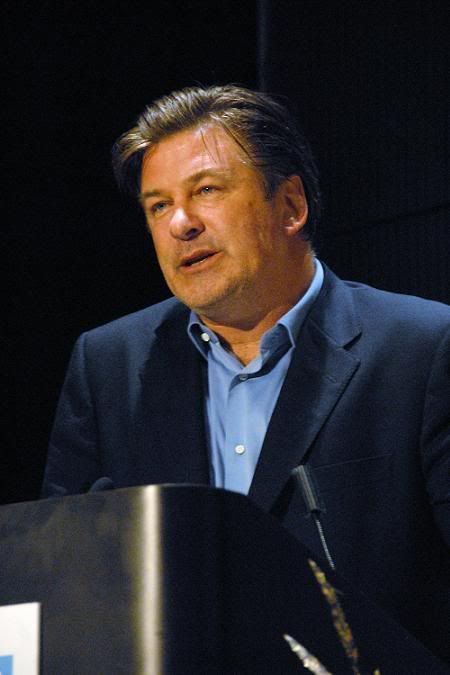 Alec Baldwin confounds me. I hated him for that terrible message he left his young daughter last spring. Then I started watching 30 Rock, in which he's so great that I decided he could call my own mother a bitch to her face and I'd still take his side. Now it turns out he's a supporter of PETA, and gave a really interesting speech to a group of their supporters recently. A speech I'm assuming is supposed to be ironic or funny or make you think… but doesn't entirely come off that way in print.
On Wednesday Alec hosted a screening of Blinders for PETA. The documentary film shows the cruelty behind New York's horse-drawn carriages.
Actor Alec Baldwin has urged visitors to New York to ditch the city's famous horse-drawn carriages – and get drunk and take drugs instead.

The native New Yorker claims the vices are as valid a "tradition" as the carriages, which he claims are cruel to the horses forced to pull tourists around Manhattan.

Speaking at a People for the Ethical Treatment of Animals event in the city on Wednesday, Baldwin told WENN about the traditions he took part in during his youth in New York: "I walked through Union Square on my way to acting class and got offered loose joints. Drug dealing was a great tradition in this city.

"There are other traditions people can get involved with in this city. When I was younger, I used to get a bottle of wine and get drunk under the Staten Island Ferry… so there are things like that you can do."
[From Showbiz Spy]
If you imagine him saying that last line as Jack Donaghy, it's freaking hysterical. I hope a video surfaces. PETA president Michael McGraw clarified that Baldwin was definitely joking. He was pointing out that there were other traditions in New York that weren't decent, and most people wouldn't considering participating in most of those. Though to be fair, I have gotten drunk under the Staten Island Ferry. So drunk, in fact, that the whole ferry looked like it was painted a blindingly bright orange.
Here's Alec at the PETA hosting of the screening of 'Blinders' in New York City on Wednesday. Images thanks to WENN.