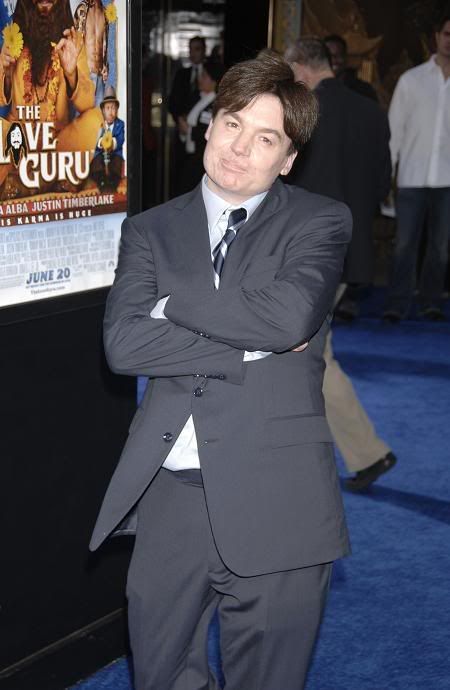 Oooo, it seems Mike Myers happy-go-lucky reputation has caught up to his ego. "The Love Guru" is opening in theaters and is reportedly painful to watch. Critics are unapologetically ripping the movie apart with bad reviews. Despite a decent level of star power present in the film, you can't buy class. To add insult to injury the notoriously funny Myers is said to be a demanding diva. After making an appearance on Conan O'Brien's show the workers backstage felt the wrath of his "crazy" requests.
The comic made an appearance on NBC's "Late Night With Conan O'Brien" Wednesday to promote ''The Love Guru,' but he drove backstage staffers bonkers while he waited to go on. 'He sent a team of interns on a wild goose chase for Silk nondairy creamer, Twizzlers and raspberry seltzer,' said our witness. 'Then he sent one of the interns back out to get him a new drink when he realized his seltzer was not the brand he requested.'"
The casting for the film was even all about Mike and his demands. In order to score a role in the film you had to either be a good friend or have a friend that is tight with Myers. Jessica Alba and Ben Kingsley were both cast thanks to a "mutual friend." Justin Timberlake and Verne Troyer had worked with the "Austin Powers' creator before. Del Close was a former teacher (who was mentioned in the interview done with Sports Illustrated for some unknown reason being that passed away 1999. Thanks guys!). He also sent out the script to some Hollywood BFF's to score some more star power.
Myers: "It was the same with Austin Powers. I sent a script out to Steven Spielberg, Tom Cruise, Kevin Spacey, Danny DeVito, John Travolta and Gwyneth Paltrow and they all said yes and all arrived on the same day. It was an embarrassment of riches."
Hmmmm. Other than Danny DeVito and Spielberg, the set could have collapsed and I wouldn't miss any of them. Although there would probably be a Scientology uprising at the loss of their commander and his lieutenant. Who would Xenu phone home to?
Picture note by JayBird: Here's Mike Myers at the premiere of 'The Love Guru' held at the Grauman's Chinese Theater in Los Angeles on June 11th. I was really confused about what he was doing with Mariska Hargitay. Apparently there's some joke in the movie about her name – I think it's that it's magical or something. But there's no way in hell I'd subject myself to watching it in order to find out. Images thanks to WENN.