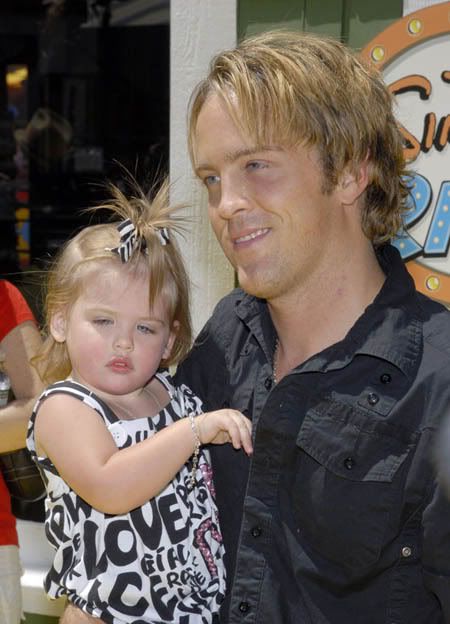 Anna Nicole Smith didn't have a huge career. Her most obvious career move was marrying a rich geriatric, but she was a Playboy Playmate of the Year and modeled for Guess. Larry Birkhead wants his young daughter with Anna Nicole to have memories of her mother, so he bought her some lingerie that was worn by the blond in a Playboy magazine pictorial.
Baby daddy Larry Birkhead is looking forward to showing 1-year-old Dannielynn the lingerie he purchased at a celebrity auction on Saturday night, a pink bustier (bought for $1,800) and white negligee (bought for $1,000) once worn by the late model for a Playboy photo shoot.

Smith's onetime boyfriend said he wants to make sure the young heiress has something to remember her mom by. He hopes the sexy undergarments will help Dannielynn understand her mother's life story—one day.

"You know, it's not something I can show today, but something down the road," he said. "It's not going to be in any bedtime stories anytime soon."
I know a lot of people think this is in questionable taste, but I'd rather that Larry Birkhead had it stored somewhere for his daughter to have, rather than it going on display somewhere.
Larry says that he won't be showing his daughter the lingerie anytime soon. I wonder if he will eventually show Danielynn the picture of Anna Nicole wearing it. I guess one day he'll have to explain it, but does anyone ever want to see a picture of their late mother in a raunchy Playboy pictorial?
Maybe Larry could ask Pamela Anderson how she explains her nude modeling past to her young sons. Wow, who ever would have thought you could go to Pamela Anderson for advice?
Larry Birkhead and daughter Dannielynn are shown at the opening of The Simpsons ride at Universal Studios Hollywood on 5/17/08, thanks to WENN.