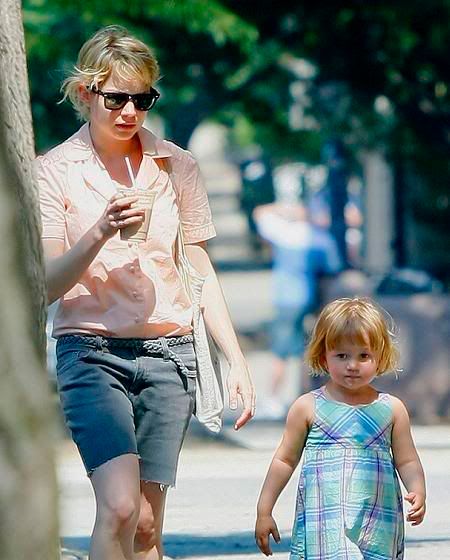 Michelle Williams will be boycotting the upcoming premiere of the new Batman movie Dark Knight. Heath Ledger's family will be flying in from Australia to attend, representing Heath. However according to the New York Post, the Ledgers and Williams are feuding over Heath's will.
Part of the problem is that Ledger never updated it after he and Williams had daughter Matilda, now 2. His old will, written in 2003, had his father as the main beneficiary. However Matilda is supposed to be the beneficiary now, and the Ledgers have publicly stated that she will be taken care of. But Michelle has supposedly not gotten anything from the family yet, and is pretty upset.
HEATH Ledger's father, Kim, mother, Emma, and other family members are flying in for the "Dark Knight" premiere on July 14 for what some are calling a "sort of tribute" to him – but don't expect to see his ex, Michelle Williams, or daughter, Matilda. An insider said, "Michelle is furious with Heath's family and threatening to boycott the premiere. Matilda is supposed to be the beneficiary of the will, but Michelle has seen nothing from them. Heath didn't have much in cash, but there was a big house in LA and a back-end deal for 'Dark Knight' [that] could reap millions."

Ledger's will, made out in 2003 before Matilda was born, left everything to his father, mother and sisters. But Matilda is now considered the beneficiary, and Kim is the executor. Williams fears that by the time Matilda reaches 18 and can cash in on her inheritance, nothing will be left. Years ago, Kim's brothers charged that he mismanaged their father's estate, losing millions. A rep for Williams didn't return repeated calls.
[From Page Six]
The issue of Kim Ledger's mismanagement of his late father's estate does appear to be a pretty legitimate concern, as all the money was lost and the estate ended up in debt. My first thought was that as an actress, you'd think Michelle Williams could afford to take care of Matilda just fine. But that's really not the issue – Heath's daughter has a right to what her father presumably would have left her.
Page Six doesn't make it clear if Matilda is now supposed to be the beneficiary of the will legally or if it's just that the Ledgers promised she would be. All of that said, it seems like the mature thing would be for Michelle to go to the premiere and try to keep relations friendly. It's likely that Matilda will want to have a good relationship with Heath's family as a way of staying connected to her dad. Hopefully both sides will work through their issues for that reason alone.
Here's Michelle Williams and Matilda taking a walk for coffee in sunny NYC on June 8th. Images thanks to Splash.