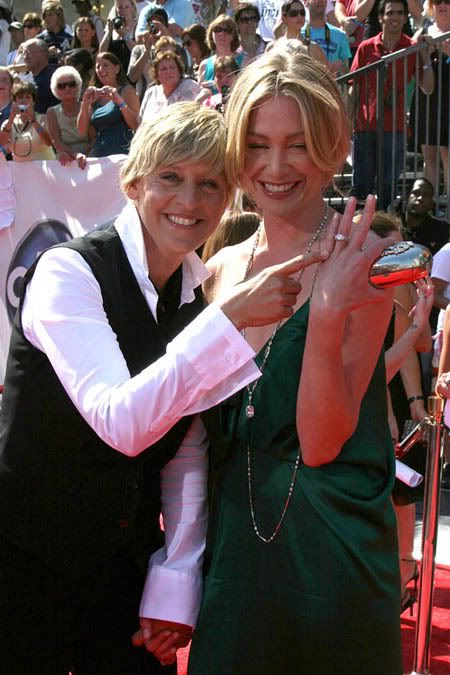 Talk show host Ellen Degeneres, 50, announced plans to marry her longterm partner, actress Portia de Rossi, 35, the day after a landmark decision by the California Supreme Court overturning the ban on same sex marriage. Now that same sex partners have full marriage rights in their state, Ellen and Portia aren't waiting to make their union legal. Ellen told reporters at the Daytime Emmy Awards on Friday that they've set a date and that Portia has a Neil Lane engagement ring. People reports that it's a "marquis cut diamond set with pink diamonds." From the details Ellen mentioned, it sounds like their wedding is going to be a lavish affair with a large guest list:
"Yes, we have set a wedding date," she confessed. "Portia has a ring. It's a Neil Lane ring."

Ellen, who also revealed she plans to fly Portia's mom in from Australia for the ceremony, was eager to talk about her upcoming nuptials admitting that , "planning a wedding is stressful."

She also joked about the size of the guest list, joking that her many Emmys "will be on top of the cake," and that the wedding is now so big "my gardener is invited."

"We have incredible people singing" at the wedding, Ellen said. "It's very exciting."
[From OK! Magazine]
Ellen took home her fourth Emmy for Best Talk Show Host on Friday. She has a popular show and an incredibly successful career. Her net worth was estimated at $63 million by Forbes Magazine in 2007.
Ellen and Portia aren't going to get a prenuptial agreement, according to the barely reliable Star Magazine. Star quotes a supposed insider that Ellen "finds prenups unromantic," and claims both partners are secure that the relationship will last. Under California law, all assets acquired by the couple during the marriage are community assets to be split in half if the couple divorces.
Congratulations to Ellen and Portia and best wishes for a happy and lasting future together.
Ellen and Portia are shown at the Daytime Emmy Awards on Friday, thanks to WENN.