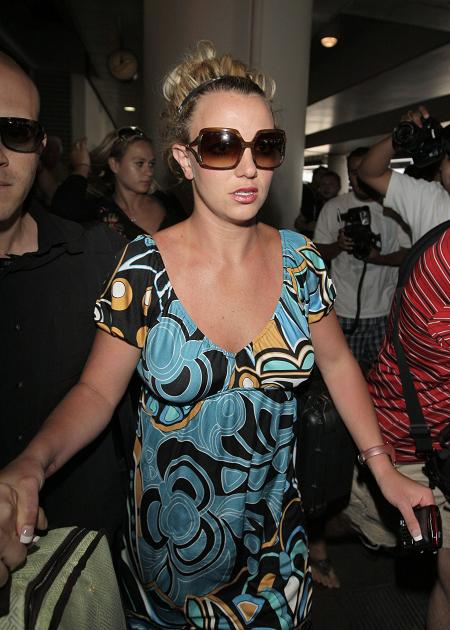 Britney Spears was in court today – but this time she wasn't in any sort of trouble. In fact the hearing was the result of all the positive progress Britney has made in the last few months. She was requesting extended visitation with her sons Sean Preston and Jayden James, who will be 3 and 2 years old in September. Britney was awarded overnight visitation, and it seems that all parties were happy with the decision.
Britney Spears has made a subtle change for the better—and, it follows, so too have her custody rights. This morning's court session, attended by both Spears and Kevin Federline, resulted in "a change of visitation status" for the new aunt, Los Angeles Superior Court spokesman Allan Parachini told reporters at a brief posthearing press conference. "Both sides have been very cooperative the past couple of weeks."

While Parachini wasn't spilling the beans, sources tell E! News that Court Commissioner Scott Gordon granted Spears overnight visits rights with sons Sean Preston and Jayden James. Federline still has primary physical custody of the boys.

The outcome seemed to sit well with both parties. When leaving the courtroom, Spears, 26, told reporters she was happy with today's decision, and Federline, 30, made his way through the media scrum with a smile on his face.
[From E! News]
Britney even showed up on time to the 8:30 a.m. hearing – though just by a few minutes. Still, it was all good progress. Britney is now being represented by her old lawyer Laura Wasser, having fired Stacey Phillips. Wasser wasn't able to deal with Brit's craziness several months back, so it's another sign of progress that she was willing to take Britney as a client again.
According to E! News, Brit is hoping to eventually be granted permission to take the boys to Louisiana to meet their new cousin Maddie soon. It looks like Britney has made a lot of progress, and it's great that's being recognized.
Header of Britney arriving at LAX from Louisiana after the birth of Jamie Lynn's daughter on June 20th. Images thanks to WENN.