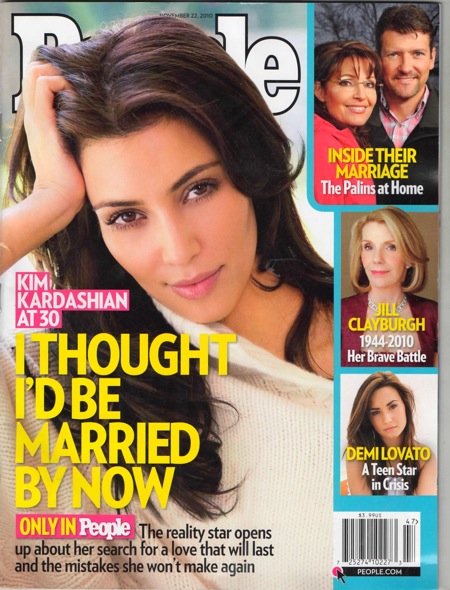 Kim Kardashian is on the cover of People Magazine this week with the title "Kim Kardashian at 30: I Thought I'd Be Married By Now." Kim is wearing much less makeup than usual and a lot of digital effort must have gone into making her face look somewhat normal. I'm kind of flabbergasted that Kim's search for love would earn a People cover, one in which her egg-shaped head is all but obscuring the magazine's title, but we have to consider that People's standards have been pretty low lately. They're a big celebrity glossy, but they put Kate Gosselin on the cover three times so far this year and who can forget their Heidi Montag: Addicted to Plastic Surgery issue? In that same vein we have Kim Kardashian bemoaning her lack of a love life. I guess she figured out that Kanye would never promote her beyond a side piece for when his model girlfriend is out of town and that John Mayer wasn't going to stick around for a woman who wanted a commitment.
Kim Kardashian is embracing something she never thought she would: the single life.

The 30-year-old star of E!'s Keeping up with the Kardashians has moved from one long-term relationship to the next since her teens.

"There was at time in my life where all I wanted was a relationship," Kardashian tells PEOPLE in this week's cover story, "and I thought that was the most important thing."

Not anymore. These days the business-savvy star says she feels "powerful" being on her own. While her sisters Kourtney, 31, and Khloé, 26, have focused on motherhood and marriage, Kim says she has surprised even herself by choosing a more career-oriented path.

"Is it weird that I'm now the single one? It's definitely a change for me," she admits. "I have always been the one in a relationship. I like that role, I want that best friend partnership."
[From People]
One thing this teaser article fails to mention is that Kim was already married for four years in her early 20s to an abusive older guy. Now that she has a successful career and no boyfriend she's probably feeling her clock ticking, especially when she sees one of her sisters married and another with a baby. I really hate when the media acts like women aren't complete without a good man. I mean I get it, many of us want to find love, but it just discounts women's accomplishments. In Kim's case her job is getting us to talk about her personal life, so why would she care if she's portrayed as a sad sack? She earned the cover of People. Admitting you're lonely must be easier than owning up to all the plastic surgery you've had done.
Update: Kaiser just pointed out that Kim also shares the cover of OK! this week with Sandra Bullock, which has the title Finding Love Again. They're pairing Kim with Kanye, and say that he's invited to Thanksgiving with the Kardashians, but I still think he's with Selita Ebanks. I'm more interested in seeing the guy Sandra is dating and I might get OK! for that story.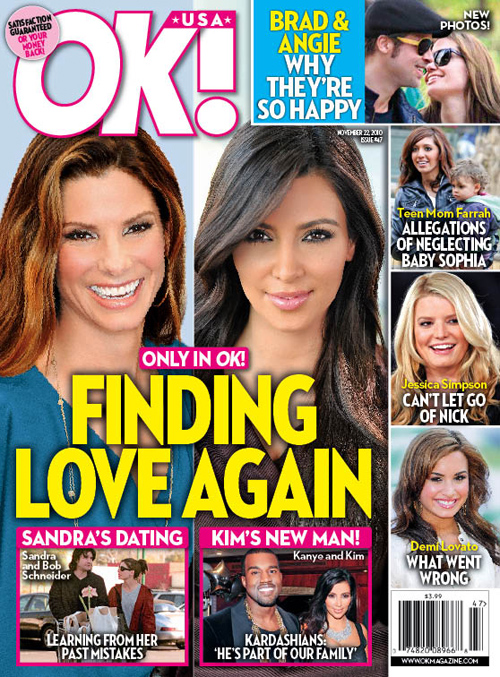 covers via CoverAwards