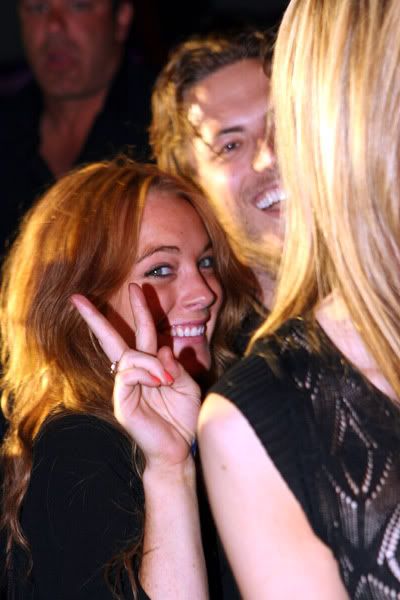 Lindsay Lohan got a harsh letter from the CEO of the production company running her latest film, "Georgia Rule," that makes it clear that her bosses aren't buying the "heat exhaustion" excuse. I initially believed that Lohan was working every day and just had to go to the hospital once for whatever reason, because I'm gullible like that and there are plenty of pictures of her on set. It turns out that Lohan skipped a entire day of work and planned not to go in the next day, either.
Lohan's bosses are pissed that she showed up late to work a bunch of times and held up filming for a day, since
it costs big bucks to keep all those actors hydrated and gaffers fed. They sent a letter to the hotel she stays at last Wednesday.
You and your representatives have told us that your various late arrivals and absences from the set have been the result of illness; today we were told it was "heat exhaustion." We are well aware that your ongoing all night heavy partying is the real reason for your so-called "exhaustion…"
You have acted like a spoiled child and in so doing have alienated many of your co-workers and endangered the quality of this picture.
This letter hit the Internet, thanks to The Smoking Gun, on Thursday. Instead of staying at home, maybe renting a movie or buying shit on eBay, Lohan was out partying again this weekend, and she didn't just stay close to home.
She went to Vegas with her boyfriend of one whole month and was seen at Jeff Beacher's variety show. She was photographed flashing her trademark peace sign.
Lohan has become a parody of herself and will have a steady career of increasingly more embarassing endorsements if she doesn't slow down and focus on her acting. Oh wait – she can sing too, right?
Lohan is shown at the show in question in Vegas on Saturday. She is also seen outside of The Ivy restaurant with her boyfriend, Harry Morton, who seems to think that a pack of cigarettes can shield him from the paparrazi.
Lohan and Morton got new tattoos in the wee hours of the morning last week, but they didn't pull a Scary Spice 'n Eddie Murphy, and opted instead for trite symbols that will last much longer than their relationship.
Pictures [via]