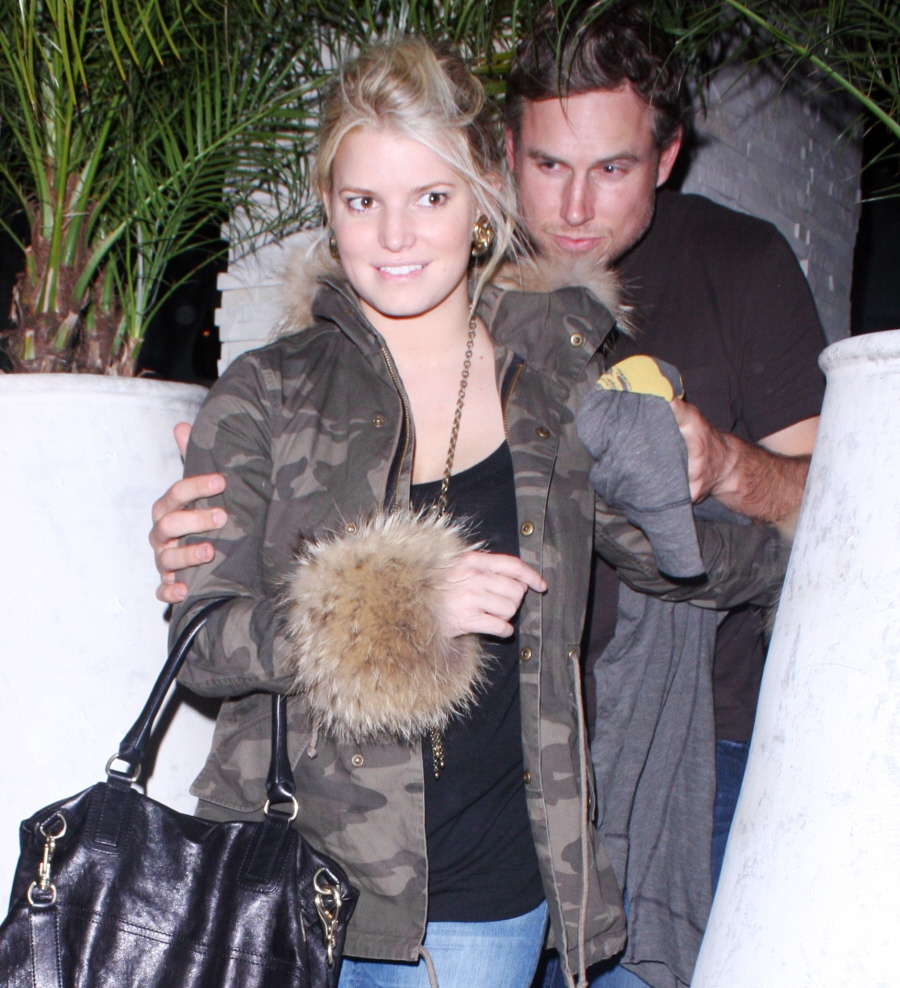 Well this is just shocking! Wait… no, that's not the word. What word means "the opposite of shocking, and Jessica Simpson is being WAY too obvious in her attempt to steal the thunder of her ex-husband Nick Lachey, thus proving that she is, in fact, actually bothered by his recent engagement." Is there a word for that? Something like "farty" or "Obvious McTragedy". Anyway, Us Weekly has some sources who claim that Jessica and Eric Johnston are now engaged. So I'll give Jessica some credit – it's not like she's confirming anything (her Twitter is quiet, as is People Magazine), this is just a random unnamed-source report from Us Weekly. Although… Us Weekly does get a lot of scoops about Jess. And Jessica has already made it pretty clear that she's expecting a ring.
Jessica Simpson is off the market!

Sources confirm to UsMagazine.com that the singer, 30, became engaged to beau Eric Johnson on Thursday, just days after Us broke the news that her ex-husband, Nick Lachey, popped the question to Vanessa Minnillo, his love of nearly five years. Simpson and Lachey, 37, split in 2005, after three years of marriage.

On Saturday, Simpson flashed a sizable ring on her left hand during an appearance at Dillard's at Oak Park Mall in Kansas City.

The Texas native began dating the former NFL player in May while he was estranged from his first wife, stylist Keri Johnson; their divorce was finalized five months later.

Though Ashlee Simpson-Wentz recently told Us that her sister "is happy, so we're all really happy," sources insist that most of Simpson's friends are concerned about Johnson's motives for dating the singer.

"Eric was never that successful in the NFL, but he's always wanted the celebrity lifestyle," a source told Us in October. "Her friends do not trust him."
[From Us Weekly]
I don't really trust Eric either, although I do think he probably cares for Jess, and they do seem to make each other happy. At the end of the day, I don't really know how a dude of normal intelligence puts up with Jessica for any extended period of time, but maybe the sex just completely makes up for everything. As far as the engagement rumor/report – eh. I think they probably will get engaged, but I'm not sure if it's happening right now. Of course, the whole process could have sped up because of Nick's announcement.
UPDATE: In Touch Weekly just confirmed the news with Jessica's rep:
Just a week after her ex-husband Nick Lachey announced his engagement to longtime girlfriend Vanessa Minnillo, Jessica Simpson also has big news- she and her boyfriend of seven months, Eric Johnson, will also be walking down the aisle, a rep for the singer confirms to In Touch. "They are thrilled!" Jessica's spokesperson says, adding that the couple became engaged late last week. This will be the second wedding for Jessica, who split from Nick in 2005 after three years of marriage.
So it's on. Poor Farty McObvious. God, Jess. I mean… congratulations, but girl, keep your eye on your bank account. Hide yo' checkbook!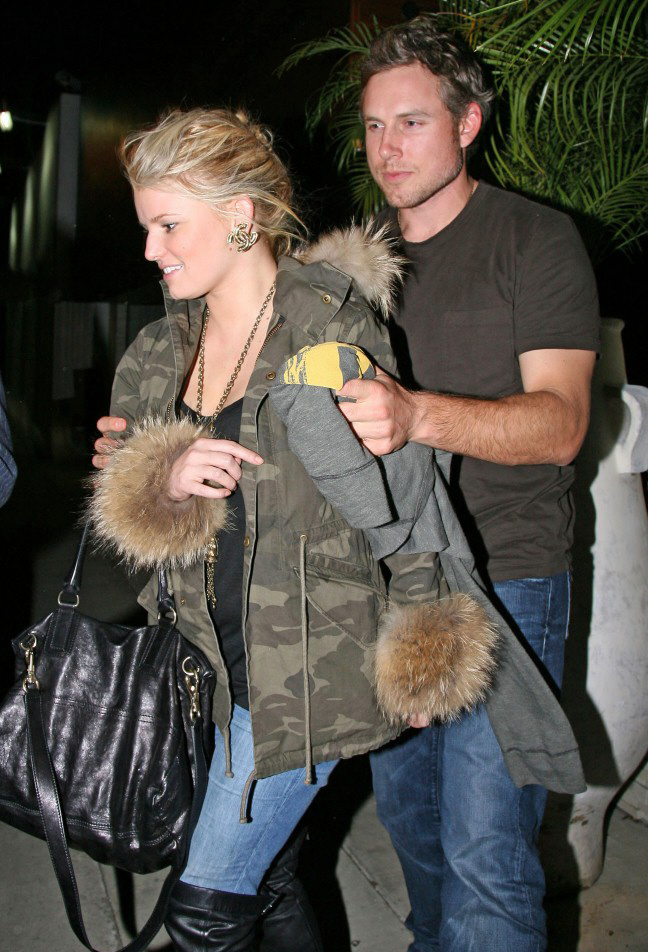 Photos courtesy of Fame & Bauer-Griffin.