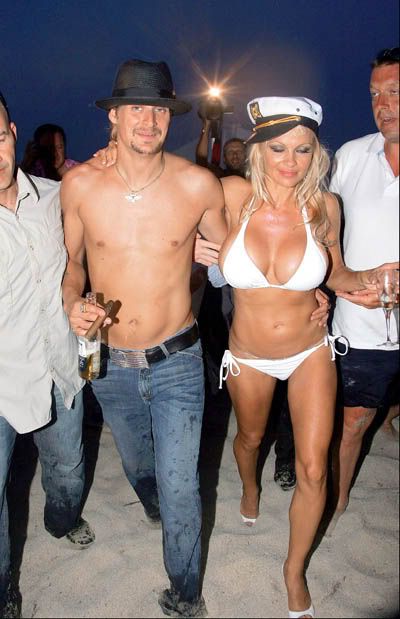 Pamela Anderson and Kid Rock got married in the first of the four weddings they're planning. They were wed on a yacht on Saturday in Saint Tropez, France. Pam wore a white bikini and captain's cap, and Kid Rock looked even less presentable shirtless in jeans and a fedora.
This is the second union for Anderson and the first for Rock (real name: Robert Ritchie) – and, apparently, there are more to come. "I'm going to get married a few times this month to the same guy," Anderson, 39, said July 26 during a news conference in Las Vegas. "We had to do Malibu, we've got to do Detroit, and we've got to do Nashville."
Anderson and Rock, 35, began dating in spring 2001. They became engaged on April 11, 2002, in the Las Vegas desert, but split the following year. Still, when they ran into each other early this month in Saint-Tropez on a mutual friend's yacht, the feelings were still there.
"It was like we'd never been apart," Rock told PEOPLE on July 11. "(I) love her to death." Anderson announced their engagement on her Web site on July 18.
So why the whirlwind nuptials? "It's just timing," Anderson told PEOPLE on Wednesday. "It's being in love, obviously, and it's time for me to move on with my life and get on with the rest of it with my kids."
These two are not going to last three months.
Like Eminem, Kid Rock reveals his misogynistic personality in his lyrics. Here's a preview of what these two did on their wedding night: (Warning, this is freaking gross.)
Now if you think the story is over just listen to this

I thought my mission was complete so I gave her a kiss

Then I was searchin for a towel to clean off my dickie

Cuz it was kinda wet all bloody and sticky

And to talk about gross heres something sicker than sick

The bitch dropped to her knees and licked the tip of my dick

I started trippin cause this was something I've never seen

The girl was more than a freak she was a sexual fiend

And when I thought that was as gross as one girl could get

She stuck her finger in her booty and then she licked it

Oh now this girl was much more to me than a freak

In my opinion she was plain nasty

But never the less I completed my duty

I got this freak and co-waxed the booty
Sorry for that, I could not resist posting those lyrics.
Here are Pam Anderson and Kid Rock on their wedding day. The woman got married to two different guys, wearing a bikini each time. So classy. [via]