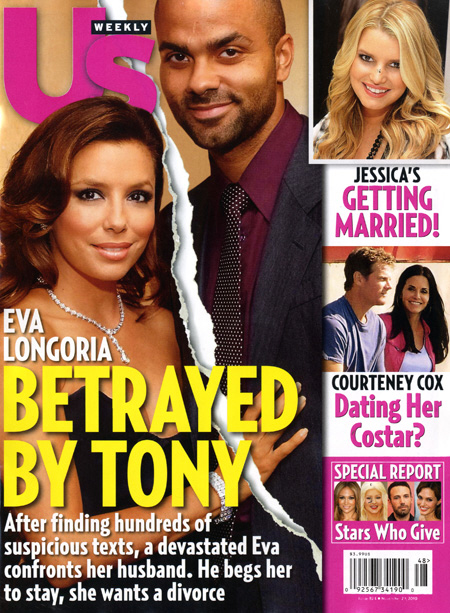 What in the world is going on with Eva Longoria? Goodness. First it was TMZ and E! News, then it was People Magazine, and now her marriage/divorce drama has taken the cover of Us Weekly. Us Weekly's sources tell them that Eva and Tony's marriage is in serious trouble after she caught him exchanging "personal texts" with a "mutual female friend" for nearly a year. They also claim that Eva is "heartbroken" and that she wants to end the marriage and Tony is the one who wants to stick it out. This goes against TMZ's story that Tony was the one to file for divorce in Texas. I'd also like to note something peculiar – Eva's rep went around to every major media outlet yesterday and made them print retractions and denials about an impending divorce, and if the divorce is happening, Eva just lost a lot of media support for pulling what little rank she had over a series of lies.
Eva Longoria Parker and Tony Parker have split after three years of marriage, Us Weekly reveals in its newest issue, on stands Wednesday. Multiple sources tell Us Weekly that Longoria Parker, 35, recently discovered that her husband, 28, has been exchanging personal texts with a mutual female friend for nearly a year — hundreds in just one month.

She plans to file for divorce soon, sources tell Us.

"Eva is heartbroken by the betrayal," says one insider, adding that her husband confessed to the inappropriateness – which took place for nearly a year – after she confronted him.
Adds another friend, "Once the trust was lost, the marriage was over."

Nonetheless, the decision to end one of Hollywood's most affectionate and glamorous romances wasn't easy.

"Eva truly thought she was going to grow old with Tony and have children with him," adds the pal. "She's inconsolable."

Longoria Parker's rep had no comment; Parker's rep could not be reached.

For more – including Longoria Parker's confrontation with the other woman and how he "does not want to end the marriage" – pick up the new Us Weekly, on stands now.
[From Us Weekly]
Surprisingly, this Us Weekly story sounds like the one sanctified by Eva's people, and maybe all of the other stuff was Tony not following her script, as Lainey theorized yesterday. I don't want to punch Eva when she's down, so I'm not even going to ask what you think the chances are of Eva and Tony pulling through. But I will say this – at the very least, Eva is getting headlines, right? That must make her happy.
Us Weekly cover courtesy of CoverAwards.