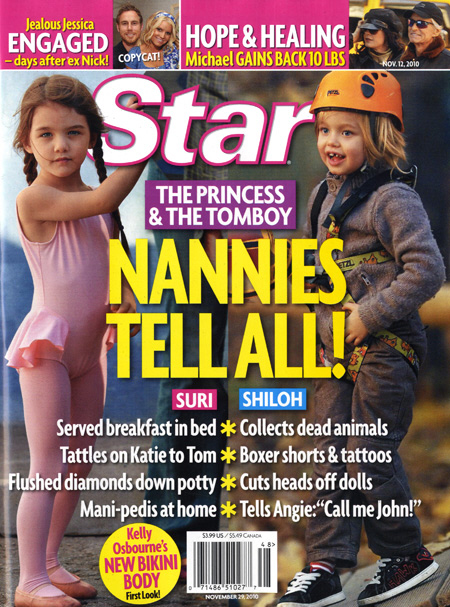 From the looks of it, every tabloid other than Us Weekly seemed to be phoning it in this week, probably because they knew People Magazine's Sexiest Man Alive would be the magazine women picked up at the grocery store. Thus, this week's tabloid covers are going to be pretty boring – OK! Magazine is running a Twihard fan-fiction story, and now Star is phoning it in with a silly "Suri Cruise vs. Shiloh Jolie-Pitt" story. They released an excerpt, and I'm not really seeing how "the nannies" are telling us anything we don't already know, except for the whole idea of Suri playing with diamonds. Can you imagine giving a little girl a diamond to play with?
At just four years old, both Suri Cruise and Shiloh Jolie-Pitt are already living like Hollywood royalty. But for the little princess and the rough and tumble tomboy, life couldn't be more different! One plays with diamonds, the other, with dead animals. And who would know better about their polar opposite lives than the people who care for them?

In the Nov. 29 issue of Star, on sale now, insiders from the Cruise and Brangie camps reveal the most intimate and shocking secrets of Suri and Shiloh's totally different lives.

Tom Cruise and Katie Holmes' daughter Suri "never hears the word 'no,' from a nanny or anyone else," a source explains. Whether it's a priceless diamond tiara or cupcakes at midnight, spoiled Suri's wish is her overworked staff's command!

But taking care of tomboy Shiloh, the daughter of Brad Pitt and Angelina Jolie, presents a different set of challenges. Though she's a sweet girl with a heart of gold, Shiloh has a serious mischievous streak that often gets the better of her. As we report in this week's issue, the wild child collects dead animals, plays childish pranks on unsuspecting nannies and cuts the heads of sister Zahara's dolls! "She was playing cowboys and Indians once and she said she had to scalp them," an insider reveals. "Brad made her apologize."
[From Star Magazine]
Shiloh learned about scalping from Brad! She watched Inglorious Basterds and she screamed "I learned it from watching you, DAD!" Also: Shiloh cuts the heads off Empress Z's dolls?!? The Empress is not pleased with this. The Empress shall bide her royal time and then Her Serene Highness shall order Minion Knox to do something absolutely horrible to Shiloh's beloved, dead, stuffed pet bird.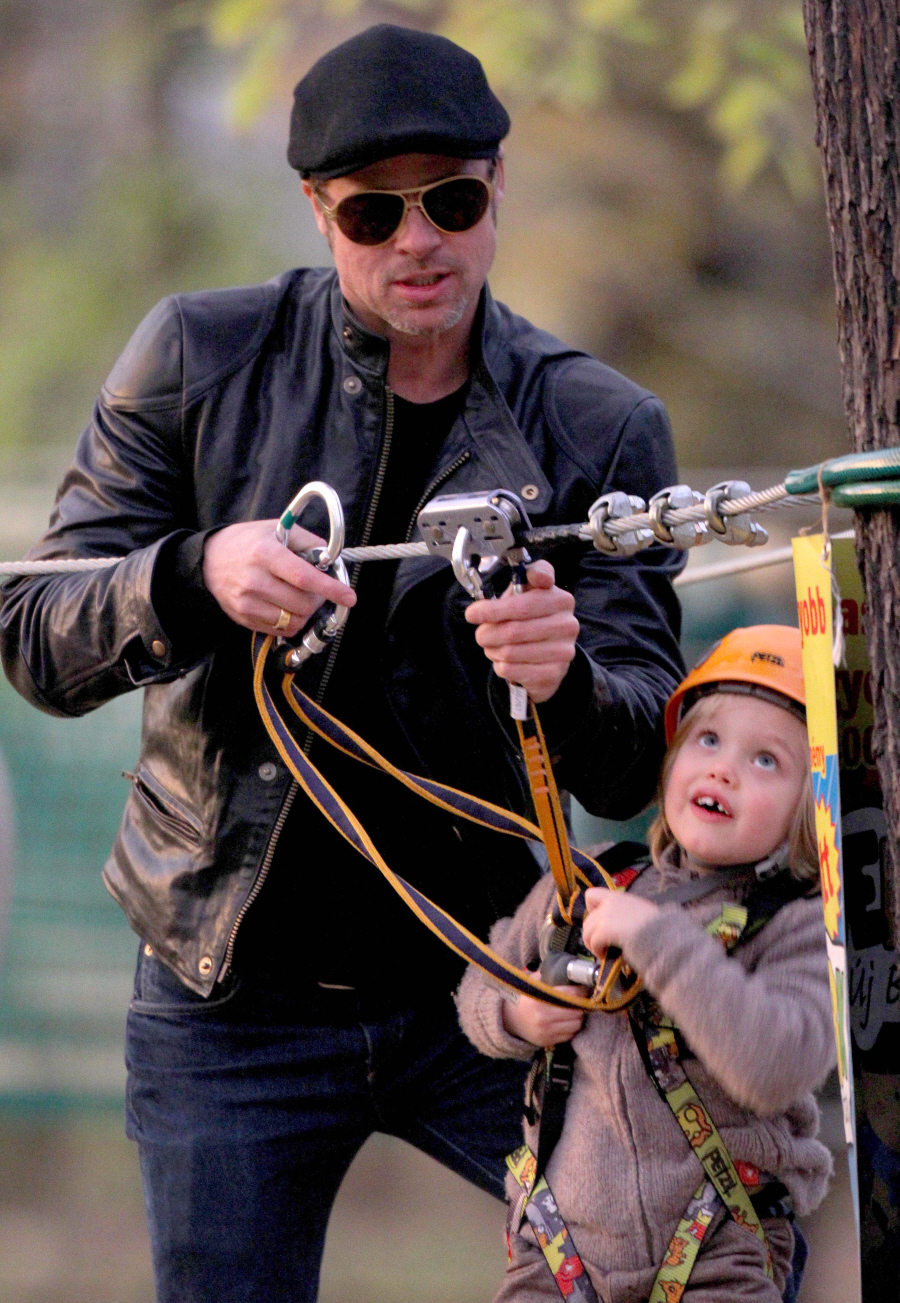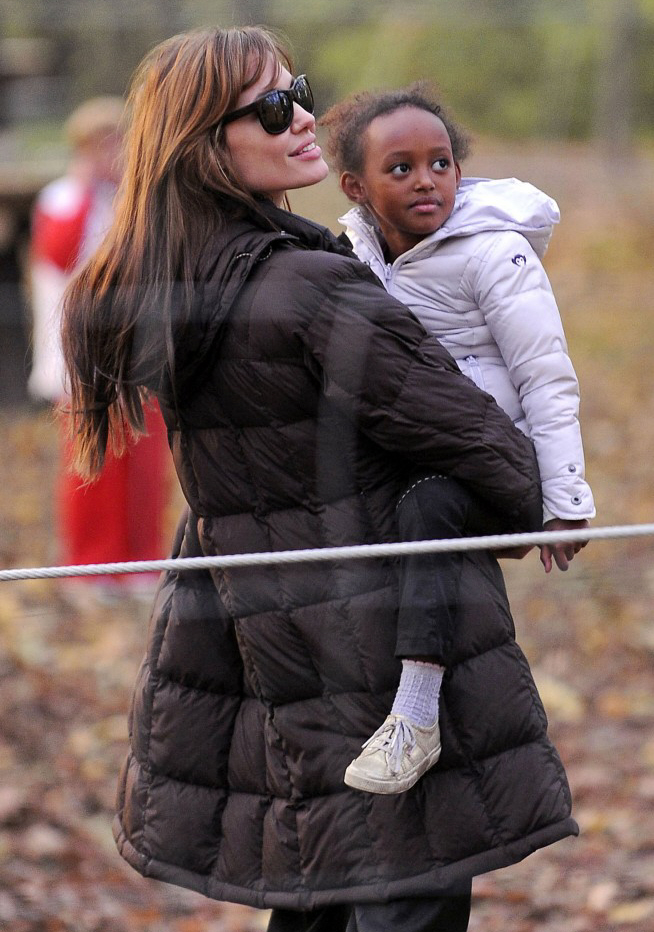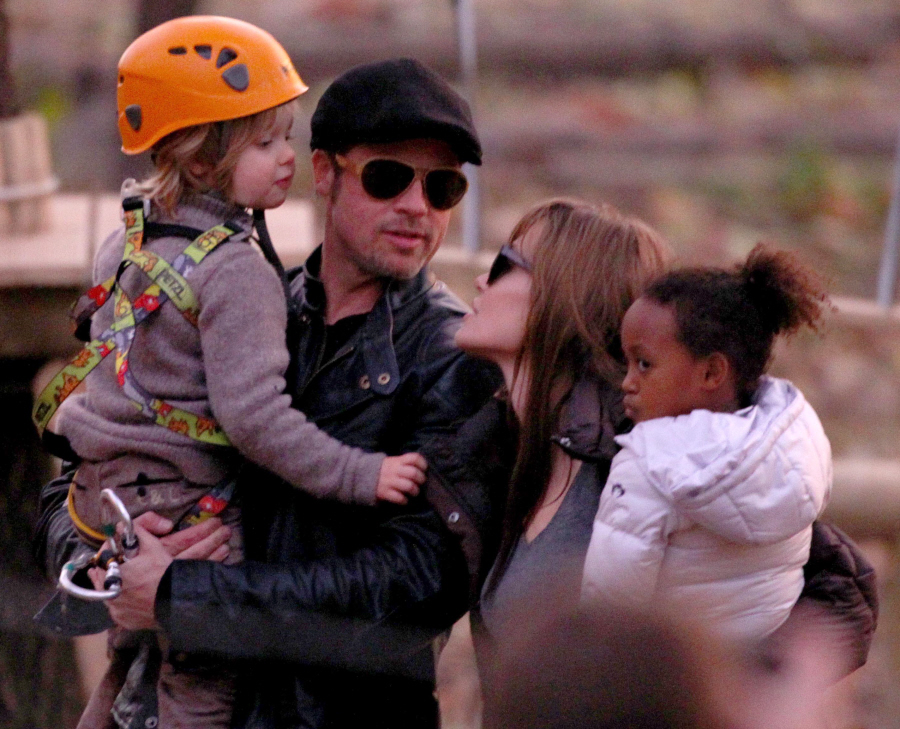 Star Mag cover courtesy of CoverAwards. Additional pics courtesy of Bauer-Griffin & Fame.