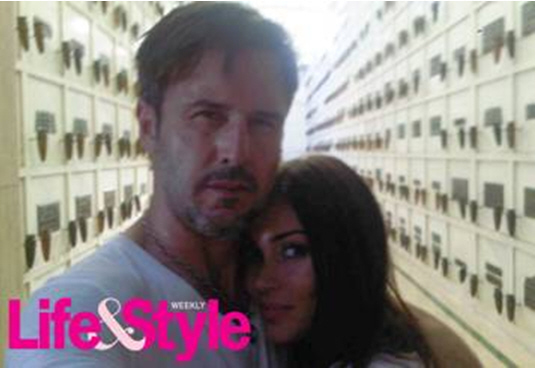 Life & Style just sent us this exclusive photo of David Arquette with Jasmine Waltz, the girl he has admitted to sleeping with twice (I think). I believe the photo was taken at a post office? How romantic? Anyway, David talked to Stern about the brief relationship with Jasmine, saying that after the mess with Courteney Cox, in which she suggested that they separate and see other people, David says he went out and boned this waitress. Jasmine has been milking this association for all it's worth, even getting herself pap'd and giving quotes to various outlets. Life & Style sat down with her for her first sit-down interview:
Speaking on the record for the first time since news of her romance with David Arquette broke, Jasmine Waltz sits down ONLY with LIFE & STYLE spilling details on their sexual encounters PLUS her revealing conversations with David about his split with Courteney Cox.

Jasmine Waltz, waitress and model, first met David on Sept. 30th when he and a group of friends showed up at Premiere nightclub, where Jasmine was working. Within 20 minutes of meeting her, David revealed that he and wife Courteney Cox had separated.

"I was surprised to hear that," Jasmine tells Life & Style. "But his friends all seemed to know about it." However, she says David seemed agitated and depressed about the split. "He was beaten down. He mentioned that he hadn't slept with anyone since separating from Courteney."

Just two nights later, David went back to the nightclub and after her shift ended, he took her to a house party. They both got very drunk, Jasmine says, and left the party around 2:30 a.m. Talking and strolling, they ended up at a Hollywood home — David told Jasmine it was the house he and his siblings had grown up in. Once they were alone, David was intent on having sex.

"It wasn't bad sex," she tells Life & Style, "but it wasn't emotional. It was quick and painless. Nothing exciting." She continues, "When we were done, he just looked at me and said, 'This is the first time I've felt like a man in a very long time.'"

Jasmine says it wasn't just a one-time thing, she and David had sex again.

But she was adamant about making sure he was telling the truth about the split before sleeping with him. David assured her he was single and opened up to her about what had caused the split.

"I definitely got the impression that Courteney had made the decision to separate," Jasmine recalls. "David did not seem like the one in control of the situation. Not at all."
[From Life & Style]
Sure. I tend to believe that Courteney instigated the separation, and I'm still holding on my theory that it wasn't so much that Courteney and David were having problems together, it was that Courteney had a problem with David because she wanted to bone her costar, Brian Van Holt.
Here are some more photos of Jasmine… I swear to God, she has Megan Fox's 2008 Face.
Header photo courtesy of Life & Style.