Courteney Cox gets close to her rumored lover, Brian Van Holt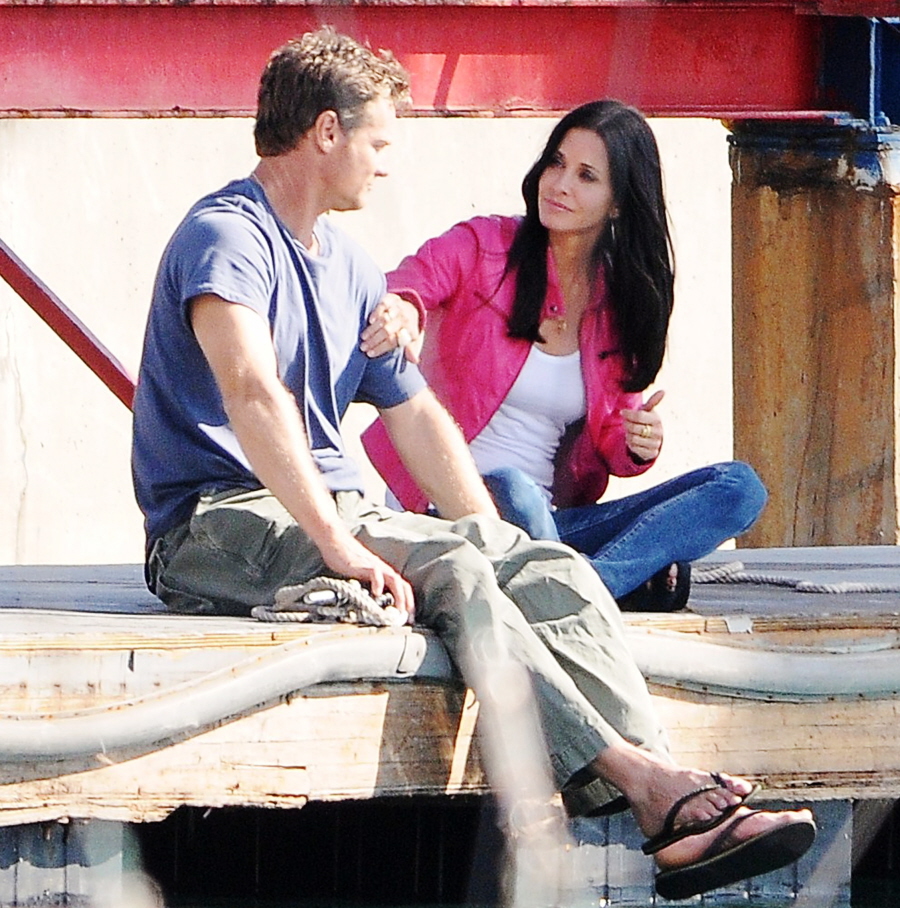 Fame Pictures claims Courteney Cox and Brian Van Holt are "filming" in these photos. Do you see any cameras? I don't. Granted, they're probably on a break from filming Cougar Town, but I suspect that there's another reason for these photos. First, Courteney has allegedly been boning Brian for months – tabloids were reporting their alleged affair months before Courteney and David Arquette announced their split. When Court & David actually split though, is up for grabs – and it's totally possible that Cox and van Holt began having a sexual/romantic/emotional relationship AFTER Courteney and David had decided to try a trial separation. Of course, I'm of the opinion that Brian Van Holt is the reason for the trail separation in the first place. Arquette's opinion? That Courteney and Brian had an "emotional affair". Yeah… that's what they were doing at a hotel. Having an emotional affair.
Even though Courteney seems to be publicly denying that she and David are going to divorce, I've been wondering for a while if Van Holt isn't going to end up The New Ex Mr. Cox, you know? How would it look if Courteney began rolling out a new relationship? It would look like this. It would be comfortable-looking photos of two costars talking and bonding, and then in a few months, they walk a red carpet together… maybe for the Golden Globes? And then an brief interview, confirming that they are, in fact, dating. Et cetera.
By the by… this week, Star Magazine (via Jezebel) is reporting that "Courteney and David Arquette broke up because he was drinking too much; she got sick of seeing him sloshed. She won't take him back unless he goes to rehab. This story is accompanied by three pictures of David drunk and partying; in two out of three images, little people are involved. In the third, David is carrying a bottle of champagne through the streets." Honestly, I'm worried about David's partying too, but I don't think his partying was the CAUSE of the split with Cox, I think it was the RESULT of the split.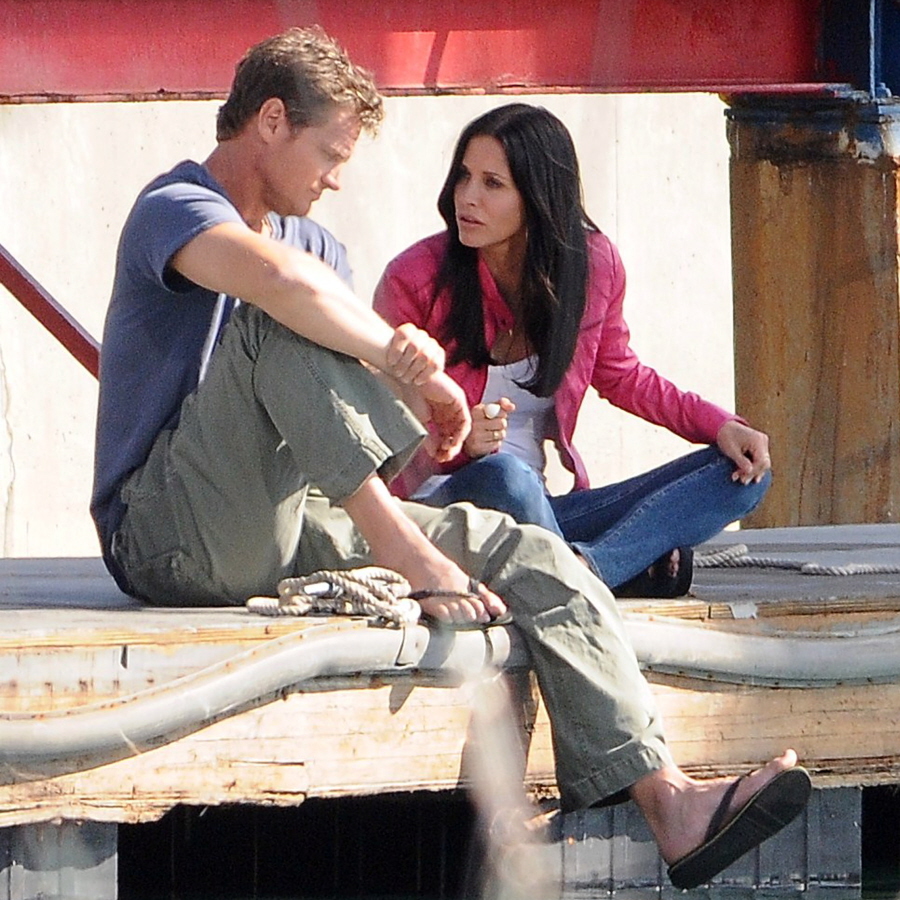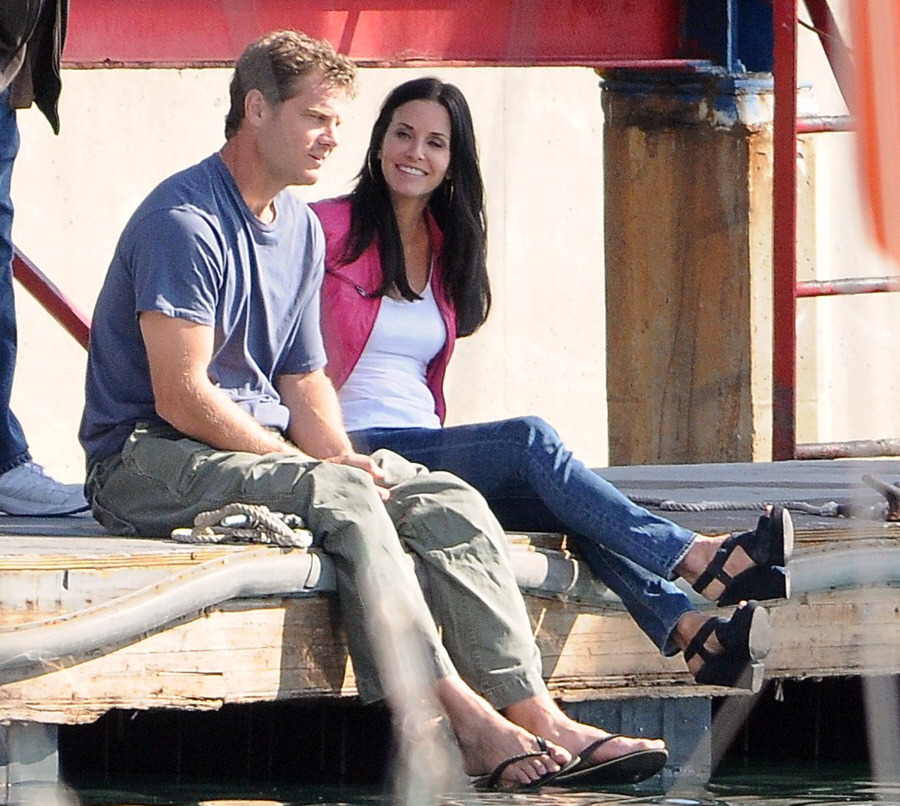 Photos courtesy of Fame.
Written by Kaiser

Posted in Brian Van Holt, Courteney Cox

- Harry Styles & Kimberly Stewart going strong [Lainey]
- Demi Moore's new man is gross [D-Listed]
- Fug or fab: Emma Stone [Go Fug Yourself]
- Arrest warrant issued for Jenelle Evans [Reality Tea]
- Only God Forgives review [Pajiba]
- Hugh Jackman, scooter master [Buzzfeed]
- Who does Drew Barrymore call her sister? [Evil Beet]
- Cannes couples past and present [Popsugar]
- Arrested Development supercut [CDAN]
- Lea Michele's see through skirt [Celebslam]
- Cheating wife's lover escapes out of window [Movin925]
- Joe Francis is crazy [Starcasm]
25 Responses to "Courteney Cox gets close to her rumored lover, Brian Van Holt"