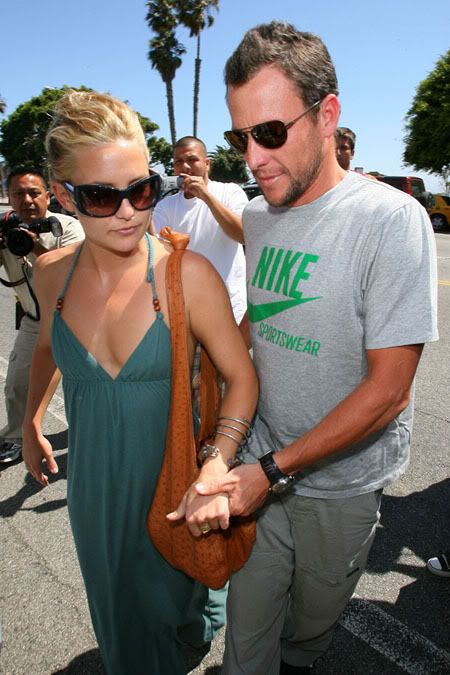 When I first saw this picture set I thought "holy sh*t, these two went to the damn Ivy." The Ivy, on Robertson Boulevard in LA, is the place where celebrities go to be photographed and there's always a swarm of paparazzi outside. It's an ideal place for lesser-known celebrities and reality stars to get some much-needed publicity because the photographers will take just about any semi-famous person's picture. Kate Hudson, 29, and her new boyfriend Lance Armstrong, 36, were at "The Ivy on the Shore," though, which is in Santa Monica and isn't as much of a paparazzi target. It's the first place that the paparazzi snapped a photo of Kate with Owen Wilson after news of their rumored affair hit the press, though.
Kate, Lance, her mom Goldie Hawn, 62, and an unidentified man dined at the Ivy starting around 2 pm yesterday, and sat out back so they could supposedly avoid photographers, but it didn't work. People Magazine reports that they looked like they were having a great time.
Casually dressed in a gray Nike T-shirt and matching pants, the cycling champ, along with Hudson and her mom, actress Goldie Hawn, met for a late lunch Tuesday afternoon at Ivy at the Shore in Santa Monica, Calif.

The trio, along with an unidentified male, arrived just before 2 p.m. They got some privacy from fellow diners and the throng of paparazzi camped out front by sitting on the patio at the back of the beachside restaurant.

"They looked like they were having a great time and enjoying each other's company," says an onlooker. "Goldie was all smiles. Lance was sitting next to her and they were chatting while Kate was laughing. They were all just really happy."
[From People]
You think they would avoid the place, but maybe Kate and/or her mom have dined there relatively undisturbed in the past and the food is really good. At least they weren't at the main Ivy, but maybe next time they'll be a little more creative with their restaurant choices and will be able to keep photographers at bay.
A lot of you say these two aren't going to last, and you could be right. Both have sketchy recent relationship histories, but maybe now that they've found each other they'll settle down. They certainly seem intent on getting involved in each other's lives, and Lance has even met his maybe future mother in law. He should watch out, because the in-laws seem a lot different once you're married – or so I've heard.
Photos by Clint Brewer at Splash News.