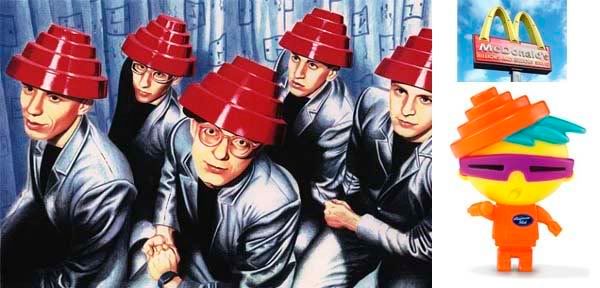 Iconic 80s electronic band Devo is suing McDonalds for copyright infringement over a Happy Meal toy included as part of an American Idol promotion. The toy featured Devo's trademark plastic tiered red funnel hat, distinctive glasses, and orange jumpsuit and was named "New Wave Nigel." Devo popularized that unique look in the video for their 1980 hit "Whip It," and they say McDonalds is blatantly ripping them off, plus they say they just don't like them or American Idol, so they're "doubly offended."
Eric Whelchel at Blog Critics points out that Devo isn't advertise to being used for commercial advertisements, so it's likely that they're just understandably pissed that they're not getting paid:
Devo is currently riding the artistic integrity highway in explaining its legal action. Bassist Gerald Casale, credited with creating the band's unique look, is quoted as saying that McDonald's "didn't ask us anything. Plus, we don't like McDonalds', and we don't like American Idol, so we're doubly offended."Nevertheless, it's somewhat difficult to accept this assertion at face value. Despite its carefully crafted image as a band that mocked and criticized commercialism, Devo hasn't shied away from using its image or music in commercials. The band appeared in a 1984 ad for Honda scooters, and later recorded a new version of "Whip It" for Swiffer television commercials (though Casale has since stated the band regrets that decision). Clearly, Devo won't ever be confused with Tom Waits regarding their views on licensing their songs (or themselves) for commercial use.

With this history in mind, Casale's comment that McDonald's "didn't ask us anything" is curious. Those cynics among us could interpret that to mean that Devo might have approved the idea, had they been asked and, it can be inferred, been given a cut of that sweet Big Mac baksheesh.
[From Blogcritics.org]

You can't blame them for suing over this toy. It's just like the look they pioneered and they should have received some kind of compensation. I searched the US Patent and Trademark Office and the Copyright Office and they have plenty of trademarks and copyrights on their music, lyrics, videos and name, but I couldn't find anything specifically related to their look. Maybe I just don't know what to look for.
Devo is currently comprised of five members, including four original members who happen to be two sets of brothers. They're still recording and making a living off their music. The youngest and newest member is 35 year-old drummer Josh Freese, with the original four members all in their mid to late 50s.
In 2007, Devo recorded a song that was featured in a Dell commercial called "Watch Us Work It." They were working on a new album, which has been slightly delayed. Their last studio non-compilation album was out in 1990, although they've released several greatest hits CDs and video game soundtracks.
Devo is touring this summer, and has done dates in the US and Europe so far. They are scheduled to play throughout Australia and Japan in the next two months.
There's a band called "Devo 2.0" which is made up of child singers, including three girls, who've re-recorded Devo songs for Disney. The band is fully sanctioned by Devo and properly licensed. They've got to make a buck somehow. [Details of Devo's career paraphrased from Wikipedia]
Here's "Whip It"

Image below is of Devo's Mark Mothersbaugh performing at the 2007 Benicassim Festival in Spain, credit Corentin Lamy via Wikipedia. Header images via Andy on The Roll and brocknroll.wordpress.com. Inset image from Letterarms.blogspot.com.