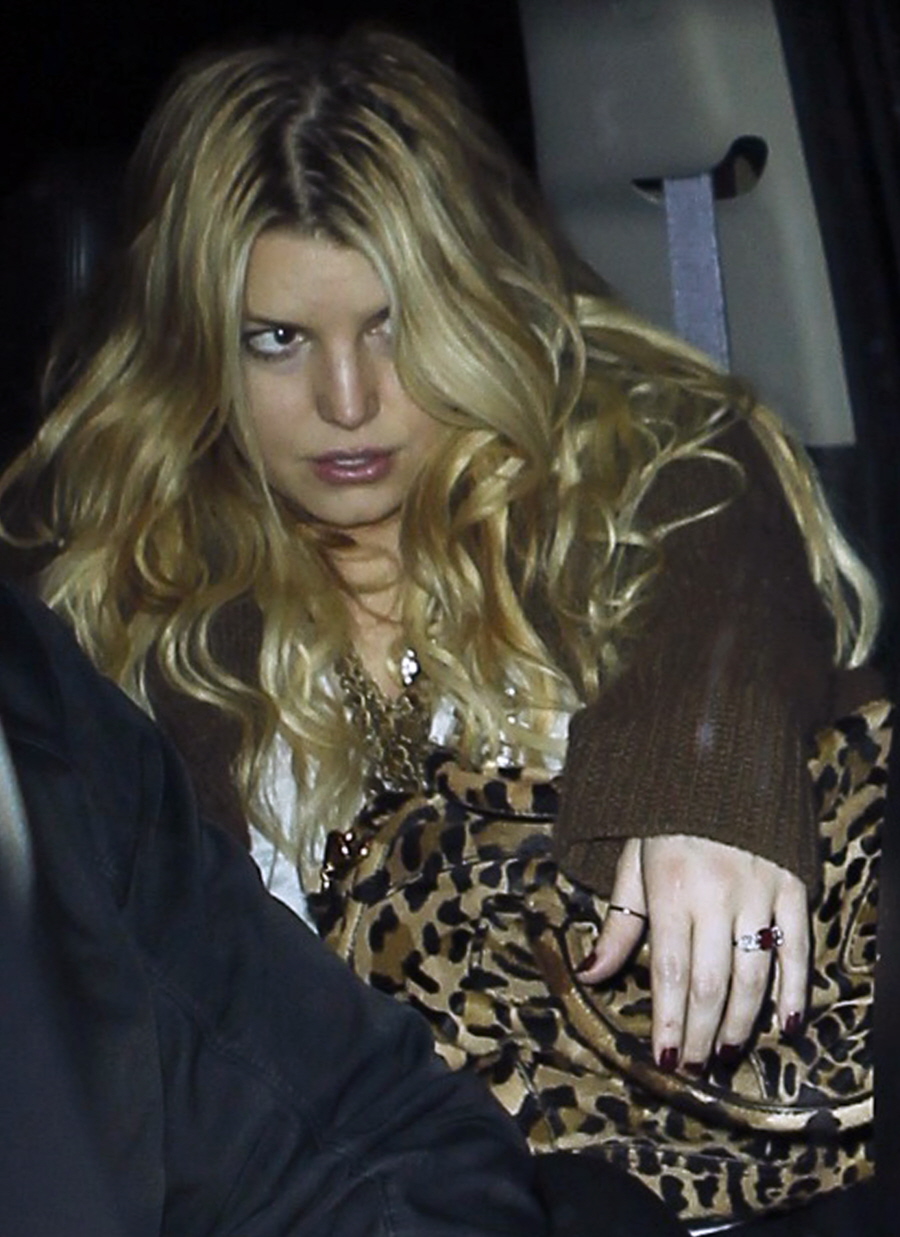 You know how I'm a total bitch, right? Well, I've stooped to a new level of C-U-Next-Tuesday-ness, because as I was reading Us Weekly's coverage of Jessica Simpson's appearance on the Early Show, I laughed out loud, and I haven't been able to stop giggling yet. Remember how Jessica was demanding that the wait staff at her engagement party tell her how cute her budget engagement ring is? Yeah… Jessica said that when Eric proposed and she saw the ring, she burst into tears. TEARS OF JOY. Here's the line that is making me laugh so much: "I first said 'Yes!'. I didn't even try the ring on until 5 minutes in. I just sat there and cried with him." OMG! Can't you just see it?!? Jessica takes one look at the ring and she starts crying and Eric starts crying and Jessica is like "Oh, I guess I should try it on, maybe." She should have pretended that it didn't fit, and then gently suggest that they go out and get another ring.
Tears of joy! Jessica Simpson says she was a shocked, blubbery mess after Eric Johnson, her beau of less than six months, proposed Nov. 11. Opening up about her engagement during a Monday appearance on CBS' The Early Show, Simpson, 30, says Johnson's proposal was "a total surprise."

"I had to sit on his knee I was shocked," the singer says. "To really get what was happening."

What was her reaction when Johnson gave her a ruby, diamond and gold Neil Lane sparkler?

"I first said 'Yes!'" Simpson told Harry Smith, giggling. "I didn't even try the ring on until 5 minutes in," she explained. "I just sat there and cried with him."

She says she loves that Johnson went the unconventional route with her new sparkler — choosing the ruby, her birthstone, to make the ring stand out.

"I've already done the traditional thing," she sniffed of her ring from first husband Nick Lachey, who's also newly engaged to love Vanessa Minnillo. "I wanted to do something that was different."

She says that beau Johnson "had a plan a long time ago" to propose. "He had a [sit-down] with my mom and dad about it…He was a gentleman about it."

Now promoting a new Christmas album, she cooed that Johnson is "the best man in my life…He is just really thoughtful. Keeps me very centered. [He always] makes me feel like my feet are on the ground.'

Added the bride-to-be: "He's the most special part of my life and my day."

Along with her parents, the engaged couple are spending their first Thanksgiving in New York City.
[From Us Weekly]
And now I'm laughing at the idea of poor Eric sitting down with Papa Joe "a long time ago" to talk about marrying poor dumb Jessica. That is the conversation I would like to have a video of. Honestly, I imagine that the "business" side of this would make our heads spin. I bet Papa Joe offered an old-fashioned dowry for his daughter. Ugh. Why should we not call Jessica pathetic when that's the way she demands to be treated?
UPDATE: In case you wanted to watch the video of Jessica's Early Show appearance:
Here's a closeup of the ring: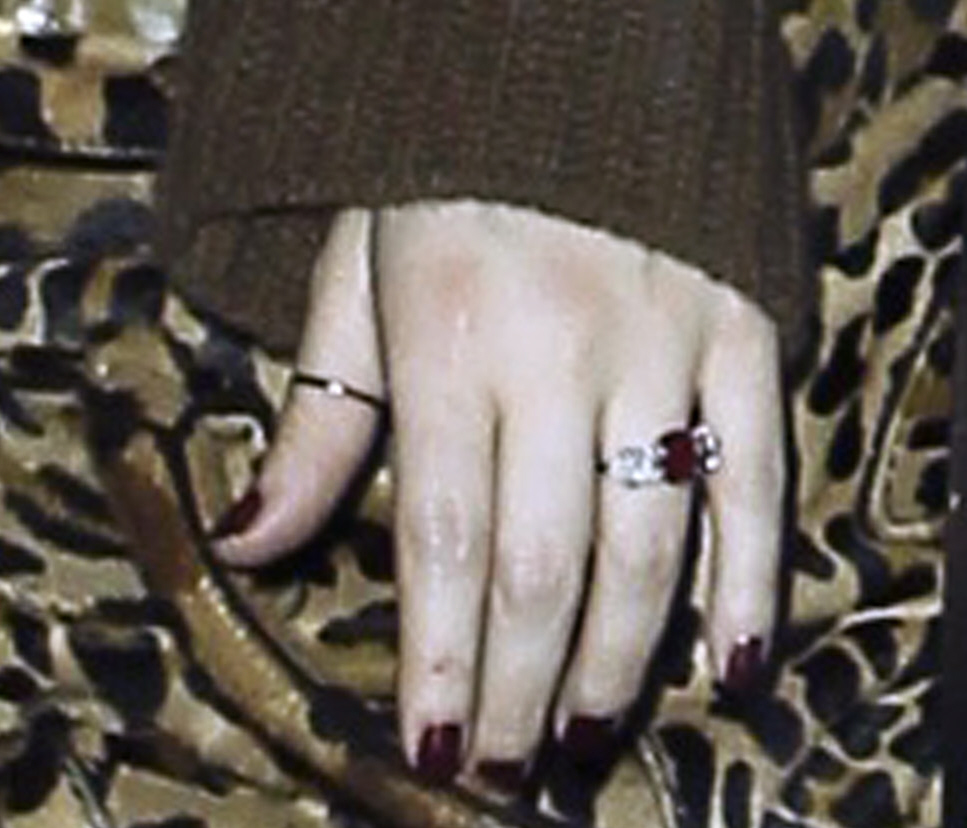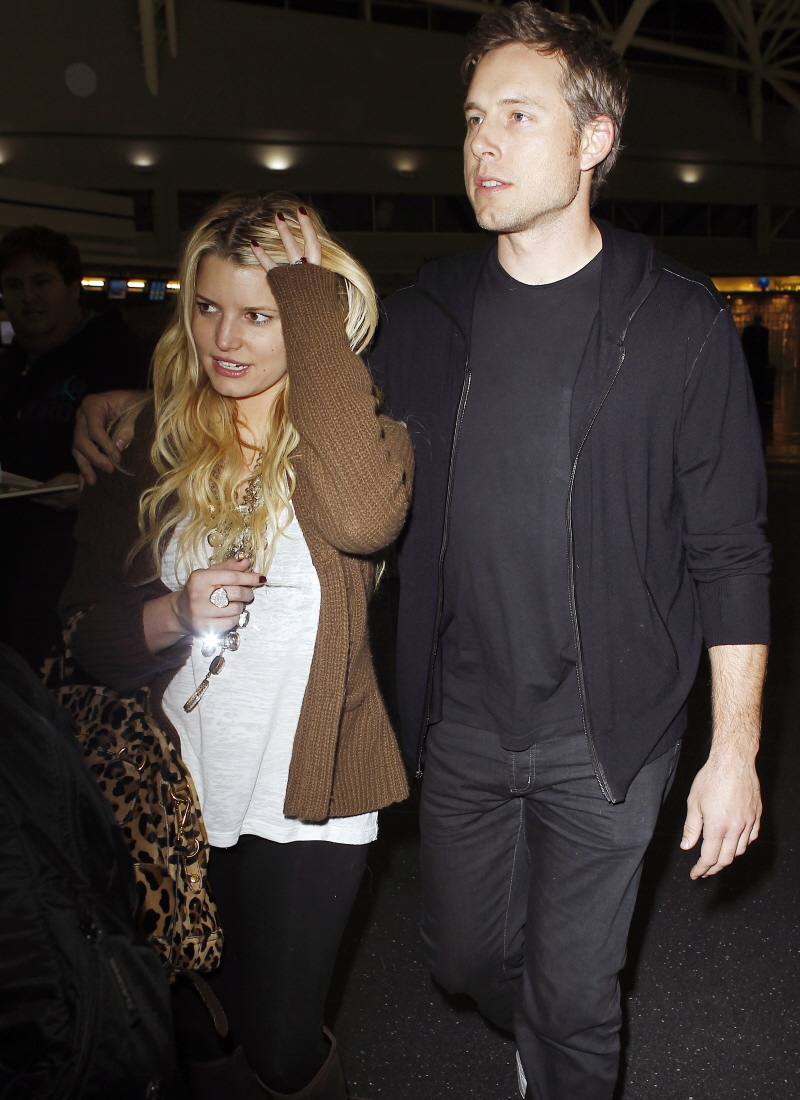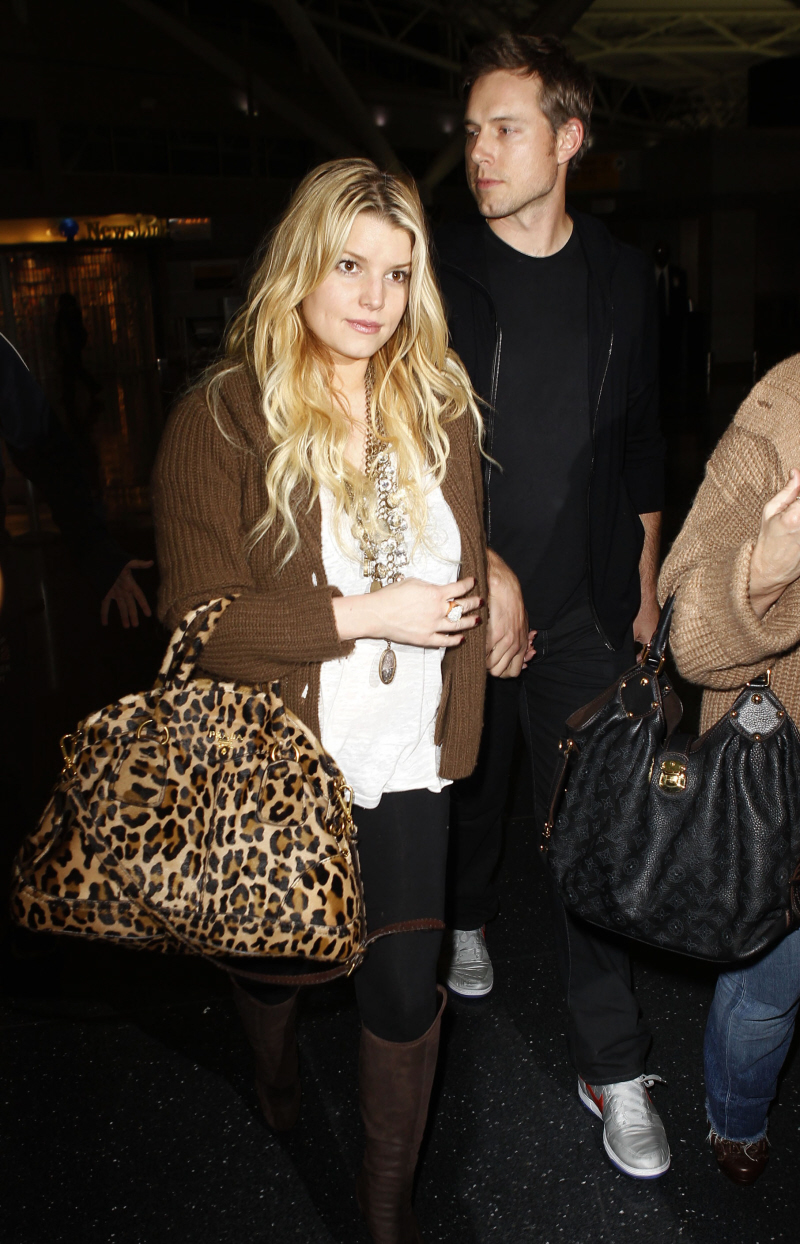 Photos courtesy of WENN & Fame.