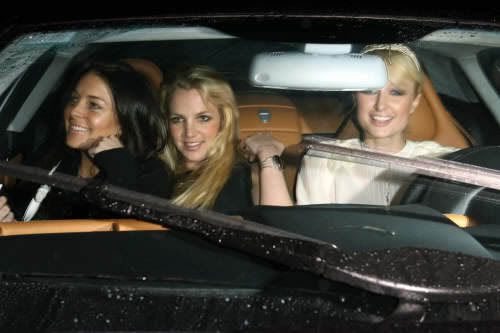 Paris Hilton has supposedly come up with an absolutely genius idea. And by genius, I mean for her. Which means not all that smart, but not the very stupidest thing she's ever come up with either. Paris wants to get all her favorite paparazzi victims together to dish (and I'm guessing bitch/complain) about their lives, and what it's really like to be them. I'm guessing there will be a lot of complaining about being followed by photographers, with no appreciation for all the money and free stuff.
I know it seems like another reality show is about the last thing the world needs. But I've learned Paris Hilton — herself no stranger to the reality TV experience — has dreamed up an intriguing concept for a new show.

According to a Paris pal, the hotel heiress got an inspiration watching both Dina Lohan's and Denise Richards' new reality series. Her plan? To try to gather together as many targets of the supermarket press and paparazzi as she can.

Just imagine Britney Spears, Lindsay Lohan, Mary-Kate and Ashley Olsen, Tori Spelling — as well as Richards, Hilton and her former "The Simple Life" co-star, Nicole Richie — together in one big two-hour special sharing "their side" of what it's like to be them.

That concept alone reportedly has intrigued a couple of cable channels initially contacted about the concept: Bravo and Lifetime.
[From the Chicago Sun-Times]
Even though I find the idea pretty annoying, I'd still watch it. If for no other reason than to see who Paris actually talks into doing this. Tori Spelling and Denise Richards have nothing to lose. The other starlets could go either way. But if some kind of fantastic crazy fight were to break out, that'd be pretty much the best thing ever. I cannot imagine what could happen with all the egos in that room. Diva behavior could very well rise beyond Diana Ross proportions. It could be epic.
Photos are from the beginning of Britney's breakdown a few years ago. That's what happens when you put Paris, Britney, and Lindsay in such close proximity.