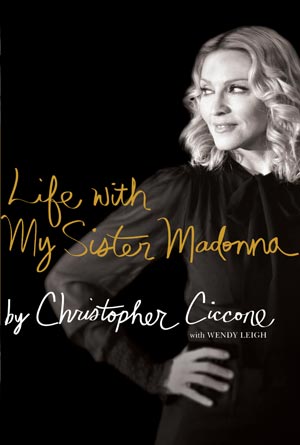 Stop the presses! Madonna's brother, Christopher Ciccone, is writing a book, titled Life With My Sister Madonna, about the singer. And while we were hoping for a bunch of fascinating, salacious details, word on the street (and by street, I mean internet) is that it pretty much sucks. It could be due to the writing, but I'm guessing it's because there's practically nothing we don't already know about Madonna. Even before the internet, we all managed to know the vivid intricacies of her life – because she couldn't stop talking about it. The handful of things we haven't heard about don't seem all that scintillating in the scheme of Madonna's antics.
Apparently, Britney Spears isn't the only A-lister Madonna has smooched.

In his upcoming unauthorized autobiography Life With My Sister Madonna, her brother Christopher Ciccone claims the singer, 49, planted a steamy kiss on BFF Gwyneth Paltrow.

According to an excerpt in British tabloid The Sun, Ciccone writes that Madonna was at a New Year's Eve bash for designer Donatella Versace.

She was dancing on a table at 4 a.m. when she allegedly grabbed Paltrow, 35, pulled her face to hers and kissed her.

Partygoers, Ciccone says, were shocked.
[From Us Weekly]
Really? Guests were shocked that Madonna did something unnecessary for attention? Us doesn't give any time frame for when this passionate lip lock may have occurred, but I'm guessing that if it happened anytime after 1983, the party goers shouldn't have even batted an eye. If I woke up tomorrow morning and found Madonna making chicken sandwiches in my kitchen wearing only strategically placed fruit peels, I wouldn't be all that surprised. Granted she's not as crazy for attention as she used to be, but still. The list of people she hasn't kissed to make a stir is much shorter than the list of people she has.
Here is Christopher Ciccone at a party on March 25th, 2007. Images thanks to Splash.