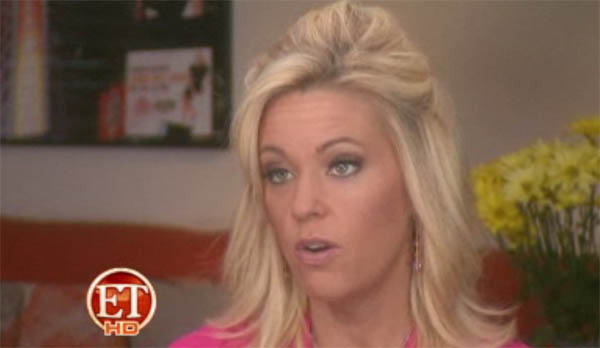 Kate Gosselin struggled to express an emotion other than "pissed off" and "disapproving" with her painfully Botoxed face during a recent interview with Entertainment Tonight. The topic was the story that two of Kate's six year-old sextuplets were expelled from their private elementary school. In response to the question of whether her kids were expelled, Kate very snottily said:
On if her kids were expelled
Two of my children – No – are being tutored at home, with a teacher who is working closely with our kindergarten teachers in the school doing the identical curriculum.

The pressure was getting to them. We have the divorce anger mixed with that. They needed some breathing time. The goal is to get them back into school as soon as possible.

On dividing her time with Jon
We have been able to work out holiday time peacefully, so I will have the first half he will have the second half. We just take it year by year.

On if her kids miss dad
They're understanding mommy lives here, daddy lives here. So we're seeing some anger and some issues. Doing the counseling… everything that I can do.

On bringing the dog back
We've brought our dog back. They can talk to [the dog] he doesn't talk back, they can tell him anything they want. They've told me this and so I had to bring him back.

On if she is dating
There's been here and there, somebody cropping up. I just feel I'm in such a weird alter [sic] reality world that who walking in is going to be able to handle, understand, support and deal with all of that. And I'm not going to say that person is not out there, I'm just still, you know, looking.

On if she plans for more Kate Plus 8
Absolutely we have so much planned for Kate Plus 8, so many trips, so many adventures… My kids would fall apart [if the show ended]
Her kids would fall apart if the show ended? Doesn't she mean that they'll fall apart if she withdraws all attention and interest in them, as she does whenever the show is not filming?
Isn't this woman interesting to watch? She doesn't answer questions directly and just kind of skirts around the issues. It's like she figures it's not lying if she talks about it in vague terms. She never says "no, my children were not expelled" just "No" and "they're being tutored." We all know she was boning her married bodyguard, yet that long term relationship becomes men "here and there" and she's "still looking." She's "still looking" for someone to take care of her when her TV opportunities dry up.
Here are a bunch of pictures of Kate from that video. Don't you love her new poof?