Nightline had a "Celebrity Plastic Surgery" segment on Tuesday, followed by a ABC Primetime "Celebrity Plastic Surgery Gone Too Far" special on Wednesday. (You can watch the Nightline episode online if you're in the US. That part starts at 8:30. Most of the segments from the "Celebrity Plastic Surgery" special are here, or you can watch it in several parts online.) Nightline spoke with a celebrity plastic surgeon named Dr. Garth Fisher who has been on Extreme Makeover, used to be married to Brooke Burke, and has fixed botched plastic surgery for Lisa Rinna and Bruce Jenner. They focused on celebrities who have admitted to the work they've had done, and even though we're aware of these people it was still pretty shocking.
Dr. Fischer estimates that around 70% of celebrities have had plastic surgery. Kendra Wilkinson, Holly Madison, Kourtney Kardashian, Jenna Jameson and Jordan are among the women whose breasts Dr. Fisher has done. He has a "teardrop" technique that supposedly makes cleavage look more natural. He also fixes a lot of overaggressive and unnatural looking surgery from other doctors, and advises clients against getting unnecessary surgery. Of Heidi Montag's work, he said "she looked great before the surgery… if she came into my office I probably wouldn't have offered those things to her. We turn down… probably 40% of the people who walk into here. You really have to be the good doctor and protect them no matter who they are."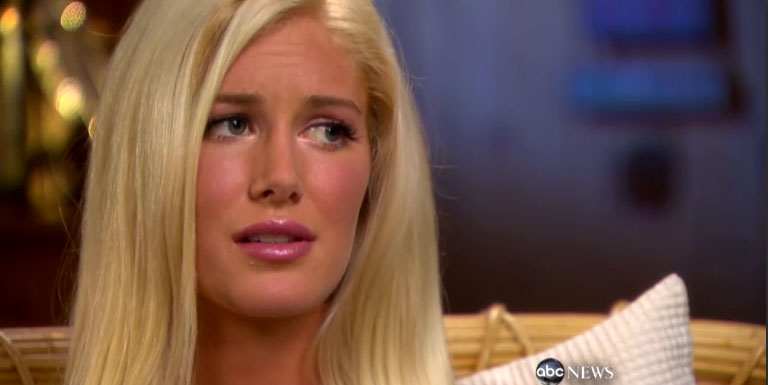 Then they had that interview with Heidi Montag you've probably heard about, where she mildly trash talked her now-deceased surgeon, Dr. Frank Ryan, and said "I definitely think I should have been way more informed. I think that doctors should really walk you through all aspects of it, not just the glamorous side of it… Doctors, it's like they're selling you cookies or something… if I could take it back I would." Radar has more on Heidi's segment on the Celebrity Plastic Surgery Special if you're interested.
There was some coverage of Lisa Rinna's lip re-do, which was shown on her TV Land Reality show, Lisa loves Harry, then we got to see Pete Burns. If you're not familiar with this guy, he's the British former lead singer for the band Dead or Alive (they had that big hit "You Spin Me Round" in 1985) and has been on Celebrity Big Brother in the UK. Burns' face is so outrageously distorted that he looks like a marionette. He's had "dozens" of injections and procedures, including a botched nose job, silicone lip implants that got infected, steroids, filler and tissue reconstruction. He described some truly disgusting complications from his surgery. (Warning on this description, it turned my stomach.) There are also some quotes from Pete below that were shown on the Celebrity Plastic Surgery special. Pete may look completely unnatural to us, but he seems to either like it or not notice. He continues to get a ton done, and said that he has his surgeon on speed dial.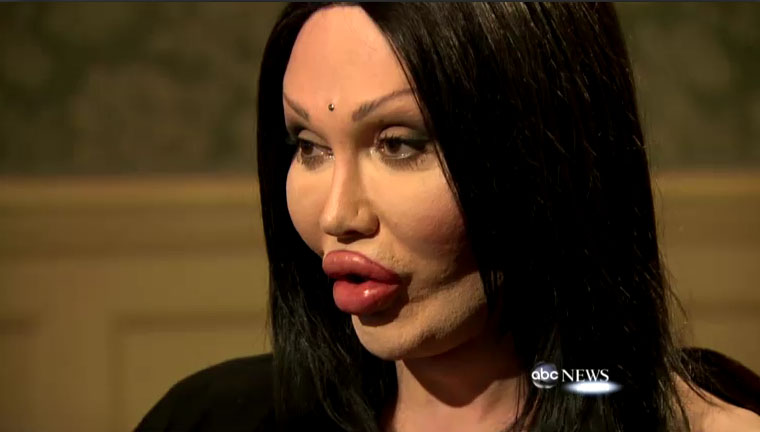 On why his botched nose job didn't stop him
Sometimes you're just unlucky and it was fixed. If it goes wrong and you can fix it, I don't see why it's any big drama.

On why he continues to get plastic surgery & injections
I see it as an artform. I see myself as my own clay, and I was remodeling it.

On when the silicone in his lips got infected
I developed rashes around the mouth, then I developed lumps. [The plastic surgeon] just kept injecting me [with steroids]
My lip was at least 18 inches away from my face, the lower lip… When you wake up and your adam's apple has come out… further than your jaw and one side of your face is so swollen you can't open your eye and there's yellow discharge, not just leaking squirting with a hiss it would squirt from my face. It was like one of the worse science fiction or horror movies you could ever see.

I went as far as LA and NY to see specialists and all they could recommend was amputation…

Narrator: eventually [Pete's] lips were saved by an Italian surgeon who specializes in rebuilding faces eaten away by cancer. Burns endured two years of intensive treatment.

On fixing the botched lip implants
It was removing what amounted to pints of fluid that my body produced trying to fight this substance that was in me. I had 11 kidney stones, near liver failure, thrombosis, nearly lost sight in one eye, I couldn't eat food.. so for two years like that.
Burns received a $700,000 settlement from the doctor who gave him those lip implants and kept injecting him with steroids instead of properly treating him. He was unable to tour or promote his greatest hits album and admits that he was suicidal at the time.
I was just talking to a friend today about this. She used to work at a plastic surgeon's office and told me that the main concern that people have is that they will look very fake or will suffer terrible consequences. As for how painful various procedures are, she said that it varies by the person like anything else. Some people don't think it's a big deal afterwards while others (like Heidi Montag) think the pain is awful.
We always hear these horror stories of plastic surgery gone wrong, and we see people like Pete Burns and this poor model (video below) who look plastic and pulled afterwards. We don't know about good plastic surgery, though, because when people have minor procedures and don't go overboard you often can't tell. I know that I would love to look as refreshed and natural as say, Sandra Bullock or Meryl Streep. Don't hate on me for saying either of those women had something done, I think they did and that it's very subtle, but maybe that's how gorgeous you look when you take care of yourself and don't mess with nature.
Heidi Montag blames her doctor

Janice Dickinson loves her look

Model trying to fix her plastic surgery mistakes