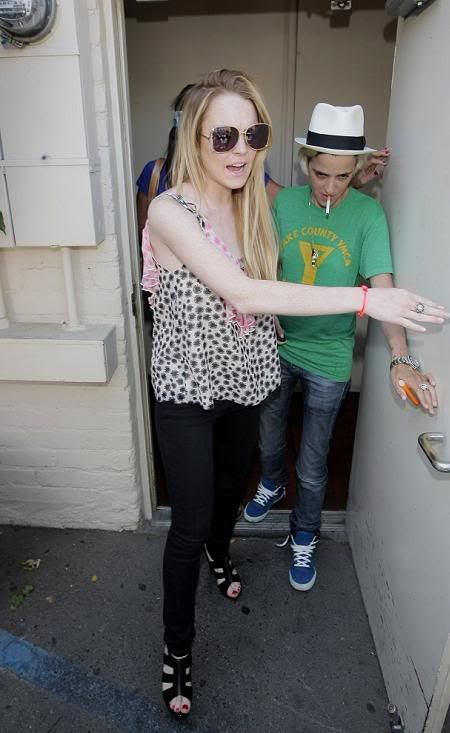 I never thought I'd say this, but I am really impressed with Lindsay Lohan. At least for her. If you were to hold Lindsay up to a regular person, probably not so much. But considering she's nearly on par with Paris Hilton, she's made some pretty big changes in her life – for the better. Lindsay's relationship with DJ Samantha Ronson has really seemed to mellow her. She's been acting much more mature lately, focusing on her work, not getting into any car accidents, and seemingly not drinking to such a ridiculous extent that she ends up in rehab. All big steps for her.
And it seems pretty clear that Sam is just as in to Lindsay. For her 22nd birthday last week, Ronson bought her a $22,000 diamond ring from Cartier. Not too shabby.
Samantha — the sister of super-producer Mark Ronson — reportedly splashed out the hefty amount on a Cartier diamond ring for Lindsay's 22nd birthday.

Lindsay was later seen sporting the band when she and Samantha were shopping in LA. A source says, "Sam took Lindsay shopping to celebrate her 22nd birthday.

"Although Lindsay is the major breadwinner, Sam has her own money and is very proud.

"It's not an engagement ring – simply a token of her commitment. Lindsay is thrilled and she and Sam are very content."
[From Showbiz Spy]
According to a good deal of internet gossip, Sam not only pays her own way, she generally pays for Lindsay too. Considering the rumors of money problems that have been hounding LiLo for well over a year, that's not too surprising.
Lohan made a cryptic comment about her birthday wish to Ryan Seacrest – and everyone is saying it's as good as if she actually admitted that she and Sam are together.
"I just wanna live a happy, healthy year, continue on the path that I've been on and be with the person that I care about. And my family."
[From the Mirror]
Samantha also posted a picture of the two of them kissing on her MySpace page. I'm not sure what else the two of them can do to make it more obvious to us that they're together. You know, except actually publicly acknowledging it.
Here's Lindsay and Samantha on their way to eat with friends at La Scala in Beverly Hills on July 2nd, Lindsay's birthday. They went to Cartier earlier that day. Images thanks to WENN