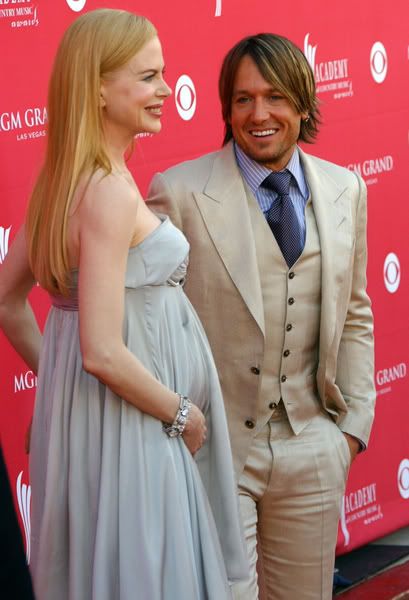 Some of you have expressed skepticism about the name "Sunday" for a girl. Although it's a bit unconventional, I think it's a lovely and perfectly acceptable name. There are a couple of stories speculating why Nicole and Keith picked the name Sunday Rose Kidman Urban for their baby daughter, born yesterday. US Weekly spoke with a baby name expert, and MSNBC's The Scoop has some insider information about their possible inspirations for the name:
The Scoop: Keith had a song named "Sunday," and it has the dual meaning of church day for Christians, a subtle dig at Nicole's bad experience with Scientology:
What was the couple thinking? One Kidman source said that before the birth, Urban penned a song titled "Sunday" about his little miracle-to-be. "(Urban and Kidman) knew the sex of the baby beforehand, and once Keith wrote the song, they thought it was the perfect name for their baby," said the Kidman source. "They really didn't know she'd almost be born on Sunday."

Another source said the name is her last jab at Scientology. "Nicole is a Catholic, and Sunday was an important religious day for her until she was involved in Scientology," said the source. "She's still bitter about her experience with Scientology and the fact her baby's name could be perceived as one last jab doesn't exactly upset her."
[From MSNBC's The Scoop]
US Weekly: African tribes used to name babies by the day of the week, and Nicole and Keith had a vacation in the "Witsundays" island chain near her hometown
"Sunday is one of the next generation of word names," explains Satran. "But it also harkens back to the ancient tradition of day-naming as practiced by many African tribes and originally brought to America by the early slaves."

Other famous day names? Actress Tuesday Weld, the character Wednesday Addams and Robinson Crusoe's Friday.

"Some modern parents like Sunday because of its spiritual element, which connects to such other starbaby names as Angelina and Brad's son Pax and pop names like Nevaeh," Satran adds.

Sunday emulates Suri because both "unusual first names begin with Su and have two syllables," says Satran.

The name also represents Whitsundays, an island chain off the coast of Queensland, Australia – where Kidman and Urban celebrated her 40th birthday – and it is a day of prayer in Kidman's Catholic religion.

Satran says Rose is the "starbaby middle name of the decade."
[From US Weekly]
And commenter "Rio" mentioned one meaning for "Sunday" that both articles missed, the saying "Sunday's child is full of grace" from the children's nursery rhyme. Being born on a Monday and with such attractive parents, Sunday should also be "fair of face," as the song goes.
As far as celebrity baby names go, this is a pretty good choice when pitted against Sunday's small peers and some of their eccentric names. We'll have to see what Matthew McConaughey and his girlfriend name their newborn son, born on the same day as Sunday. I have a feeling it will have a spiritual meaning, and hopefully Camila will make sure it's not too stigmatizing a name for the little one.
Update: People Magazine reports that Nicole's father suggested the name after an artist's muse he read about named "Sunday Reed". Nicole and Keith visited an exhibition by Reed's late partner, one of Australia's leading modern artists, earlier this year:
The beautiful baby girl, who was born on July 7 in Nashville to parents Nicole Kidman and Keith Urban, is named after early 20th-century artist's muse Sunday Reed, PEOPLE has confirmed. Her middle name, Rose, is a nod to Urban's late grandmother Rose.

"I have read a bit about Sunday Reed and her husband John – she was a key mover and shaker in the arts around the beginning of the century," Kidman's father Antony told Australian newspaper The Daily Telegraph. "The name Sunday struck me as being a nice name for a woman, so my wife and I mentioned it."

The paper reports that in January, Kidman and Urban visited an exhibition by artist Sidney Nolan, who had a longtime relationship with Reed who became his muse.
[From People.com]