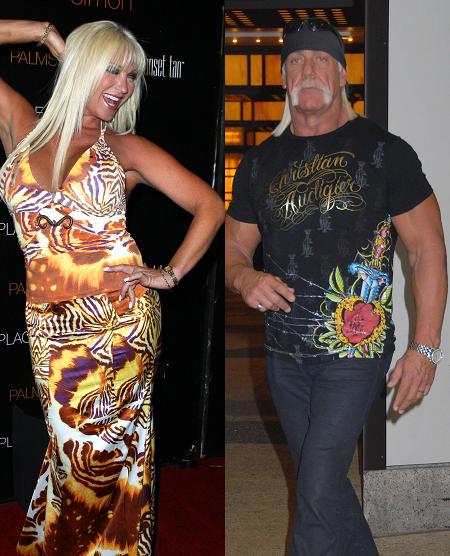 I should feel like a really bad person for cheering whenever the divorce proceedings between Linda and Hulk Hogan worsen. But then I think about the way karma is biting them so deliciously in the ass, and this big, perverse grin spreads across my face.
Linda is trying to get Hulk thrown into jail for reneging on a contract to purchase a $4.3 million condo in Las Vegas. The two had been ordered by a judge to complete the sale, even though they're in the middle of divorce proceedings. But when the day came to sign the final pictures, Linda claims Hulk was nowhere to be found, and suddenly his attorneys and friends had no clue where he was. What it really comes down to is Linda needs a place to party with her cougerlicious boys.
Hulk Hogan left his signature bandanna at home today, because it could clash with the orange jumpsuit a judge may force him to wear.

Hulk and soon-to-be-ex wife Linda were in court in Clearwater, Fla., as Mrs. H. asked hizzoner to hold her estranged hubby in contempt for failing to close on a $4.2 million Vegas condo.

As we first reported, Hulk wants to bail out on the deal — even if it means he loses his $840,000 deposit. Linda says they had an agreement to close on the condo and Hulk had no right to withhold the cash.
[From TMZ]
Hulks lawyers went off to E! News about how selfish and crazy Linda is for still wanting to purchase the condo. They also pointed out that in light of the lawsuit by John Graziano's family, it is both financially imprudent and morally tacky to throw $4.3 million into luxury real estate. Which is totally true. But I'm behind anything that somehow results in either Hogan elder spending time in the slammer.
Header of Linda Hogan at the Palms Place Hotel and Spa Grand Opening in Vegas on May 31st. Photographer: Judy Eddy. Hulk Hogan outside MTV TRL Studios in Times Square on January 7th. Photographer: Patricia Schlein. Images thanks to WENN.